Transneft subsidiary offers India pipeline monitoring system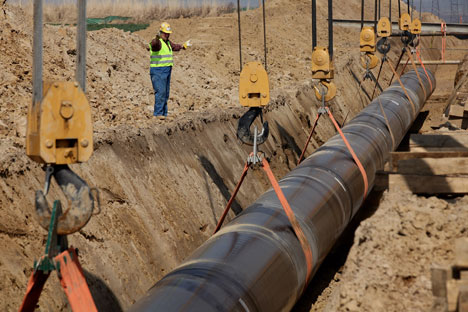 The system was developed in Russia and has been successfully applied for more than four years to 5500 kilometres of Russian oil pipelines. Source: Getty Images / Fotobank
A Russian company is looking to supply IOC with a leak detection and activity control system, and will participate in two tenders.
Transneft subsidiary, Omega will take part in two tenders to provide its Leak Detection and Activity Control System, (LDACS OMEGA) to Indian Oil Corporation, Omega's Deputy General Director for Information and Foreign Activity Alexey Turbin told RIR.
"An application to participate in a tender has already been filed and a second application will be filed in the near future," he said. "Both tenders will take place in 2015. Our offer also includes two years free servicing with conditions that are advantageous to the client."
LDACS OMEGA's operational principle is based on the use of a fibre-optical sensor as a sensing element. Analyzing the changes in thermal and vibro-acoustic field of a protected facility, in a real time mode the system indicates oil or gas pipeline leakages and unauthorized activity in the secure area. The last property opens the possibility to apply the system to other extended facilities, in particular railway lines, as well as perimeter and particularly important lines of communication security.
The system was developed in Russia and has been successfully applied for more than four years to 5500 kilometres of Russian oil pipelines. It has been presented to India's largest oil and gas companies as well as government agencies, including the Gas Authority of India Ltd and the Ministry of Railway.
Omega's Indian partners is Aratos Technologies India Pvt. Ltd.
"We appreciate the performance data of the equipment developed by Transneft for the world's largest network of oil and oil products," said Siddhartha Ray, Director of Aratos Technology India, said in an interview. "We also had negotiations with R. Priyamvada, General Director of Engineering India Ltd, which were very important and focused on future cooperation."
Aratos Technologies India Pvt. Ltd, which celebrated its 50th anniversary this year, is responsible for the design of almost all engineering structures in the energy and metallurgy sector in India as well as some other countries.
"We expend every effort to promote the undoubtedly strong and multifaceted Russian technology, we see that we have a special contribution to make for the preparation of Russian President Vladimir Putin's visit to India," he added.
Among Omega's latest technological achievements introduced to India's capital, was, in particular, the optical detector, which can determine gas pipeline leakage, when its concentration does not exceed a hundredth of a percent.
All rights reserved by Rossiyskaya Gazeta.