Surat hopes to add sparkle to diamond trade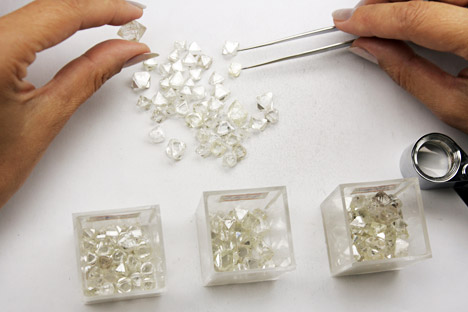 Seven out of every 10 diamonds sold in the world, say traders, are polished in Surat. Source: Press Photo
Cooperation with Russia can completely transform the lives of half-a-million-plus diamond workers in Surat.
Surat, also known as the world's diamond capital, is a vibrant city located on the southern fringes of the India's richest state of Gujarat. A premium manufacturing hub, this is where thousands of families of diamond cutters and diamantaires have been practising their craft for several generations in the innards of dusty lanes and crowded bazaars.
Seven out of every 10 diamonds sold in the world, say traders, are polished in Surat. The local US$ 7-billion industry generates direct employment for over 400,000 people in its over 40,0000 small and medium units.
However, despite an entrenched culture of diamond production, and cheap and plentiful labour, business in the city has been lacklustre lately due to a fraught global economic climate. Adding to the traders' woes is a plunge in the prices of polished diamonds as well as reduced demand for diamond jewellery which has further eroded profits. These traders, who had imported rough diamonds at higher prices are now forced to sell polished goods at reduced prices.
However, there's a frisson of excitement among Surat's merchants at the prospect of enhanced bilateral cooperation in diamond trade between India and Russia following President Vladimir Putin's recent two-day visit to New Delhi. Hundred of Surat's diamond businessmen had also flocked to the capital city of New Delhi to meet officials of Alrosa, the state-run Russian diamond miner at the World Diamond Congress held in New Delhi, which Modi inaugurated with Putin. The Congress attracted major mining companies, retailers and diamond cutting industries from across the world.
Bilateral negotiations resulted in both sides deciding to bolster trade by easing regulations and establish a special zone with tax benefits for diamond traders. Alrosa, whose annual production of rough diamonds is pegged at $5.5 billion, and Gem and Jewellery Export Promotion (GJEPC) have also firmed up a memorandum of understanding for direct trade of rough diamonds. As per the agreement, over the next three years, $2.1 billion worth rough diamonds would be supplied to India at the rate of $700 million per year. This, say traders, augurs well for Surat's diamond business.
"India, the world's largest diamond processor and Russia which is the world's largest rough diamond producer are natural allies when it comes to the business of sparklers," explains Vipul Shah, Chairman Gem and Jewellery Export Promotion Council (GJEPC), a pan-India lobby for jewellery traders."However despite the potential, only about a fifth of rough produce is currently sold directly from Russian mines to India. If this lacuna is addressed, both nations stand to gain enormously."
According to Mithun Lavakhia, a trader at Surat's Hira Bazaar, the nucleus of the diamond trade in the city, India's exports of cut and polished diamonds have also been steadily declining, impacting Gujarat directly.
"With Dubai levying no taxes on the diamond trade and China too, trying to woo this business with a zero-tax policy in its special economic zones, India needs to up its ante to retain its hold on the trade. Changes in the customs notification to allow consignment imports of rough diamonds can go a long way in improving the situation."
Direct selling of rough diamonds from Russian mines to India, add merchants, should also be expedited as these rocks have already been coming in large quantities to Surat for years for cutting and polishing.
Establishing a direct connect can catapult bilateral trade from a paltry $611 million to a whopping $5 billion," said a senior government official at the diamond Congress. "If Alrosa sets up its trading offices in India, Indian traders will not have to travel to other places like Antwerp where the company holds its auctions which can further help pare down business costs," he added.
"Greater cooperation with Russia can completely transform the lives of half-a-million-plus diamond workers in Surat. Another half a million or so who live off ancillary businesses from diamond cutting and polishing will also benefit from greater synergy with the country," states Sukhi Shah of Lucky Diamonds, a local diamond polishing unit.
The merchant rues that the city's supply of rough diamonds for the past few years has plummeted by about 25 per cent due to cumbersome Indian custom regulations. "The big suppliers have also raised the prices of rough diamonds, further impacting our bottomlines," he adds
"We're hoping that with direct air connectivity and greater synergy with Russian firms as well as the new agreements reached between Russia and India, business will look up. Direct import and export from Surat to Russia will also reduce our dependence upon Mumbai for procuring our stones, " adds trader Shah.
All rights reserved by Rossiyskaya Gazeta.