Easing visas for tourists, businessmen next step - Russian Minister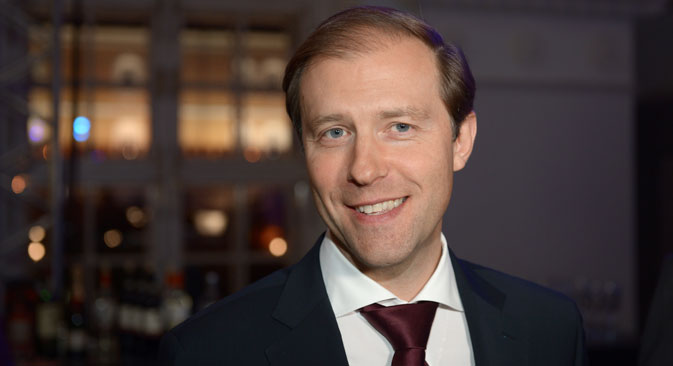 Denis Manturov: "We have had and will always have close ties and friendship with India." Source: Evgeny Biyatov / RIA Novosti
In this exclusive interview with RIR, the Russian Minister of Industry and Trade Denis Manturov speaks about the prospects of more joint ventures between India and Russian companies and discloses plans to liberalise the visa regime for tourists and businessmen.
How did your meeting with India's Commerce Minister Nirmala Sitharaman go? Did you discuss any specific projects?
My meeting with the minister herself was brief. We did not discuss any specific details with her. I had a more detailed discussion with her deputy. We are interested in developing the hi-tech manufacturing industry. Yet we do not want to limit ourselves to traditional sectors alone, such as the export of mechanical engineering products to India.
We are currently working actively to develop our cooperation in the aircraft industry. This involves joint projects to develop and manufacture the Fifth Generation Fighter Aircraft (FGFA) and Multirole Transport Aircraft (MTA). The most recent projects involve setting up local production of Ka-226 helicopters that have both military and civilian applications.
We expect companies from both countries to seek a more active presence in various other sectors of the economy of the other country. During Russian President Vladimir Putin's visit to India, our countries signed a Memorandum of Understanding between the Acron Group and NMDC Limited under which Indian companies will acquire a 30% shareholding in the Talitsa Block at the Verkhnekamsk Potassium and Magnesium Salt Deposit. This is a milestone project that will attract at least $2 billion in investment over the next five years. Thirty percent of this amount will be invested by Indian partners.
These and other business streams provide the foundation for the growing trade turnover and volume of investments. Our key goal is increasing the number of joint ventures in both India and Russia.
You also met top FICCI management during your trip to New Delhi. What issues were raised at the meeting?
The first item on agenda was lifting visa requirements, chiefly for business people. Those traveling on diplomatic and official passports no longer need visas to travel from Russia to India and vice versa. We discussed the possibility of lifting visa requirements for tourists. I believe that we should be moving in this direction.
Lifting visa requirements for tourists and business people should be out next step. This matter is a subject of our ongoing discussions. What's more, I don't think that it will be long before this issue is resolved.
We also invited Indian companies to participate in the INNOPROM International Industrial Trade Fair to be held in Ekaterinburg in July 2015, and become our main partner country in 2016. Our Indian partners expressed their interest in participating, so we are now awaiting their official confirmation.
What is the mutual trade turnover target for our countries for the coming years?
We have set an ambitious target to scale up bilateral trade to $30 billion by 2025. This goal can be achieved not just through shipments by companies on both sides, but also through joint projects, including R&D efforts. There is potential for infrastructure projects, especially industrial infrastructure.
In recent years, there have been some not-so-successful projects. There is an ongoing dispute in which Russia is trying to recover funds invested in a Russo-Indian joint venture to manufacture titanium dioxide and other titanium products in Odisha. Do you believe that they, among other projects, have adversely affected our bilateral relations?
We have had and will always have close ties and friendship with India. Certain aspects of business do not affect relations between our leaders or cooperation between our governments. Businesses try to find shortcuts to their goals, and this is not always the best way to go, but it can expose them to many risks. But our governments will certainly support companies, because we need to have a favourable business climate in order to reach our own goals.
All rights reserved by Rossiyskaya Gazeta.