Small businesses see financial gain in healthy lifestyles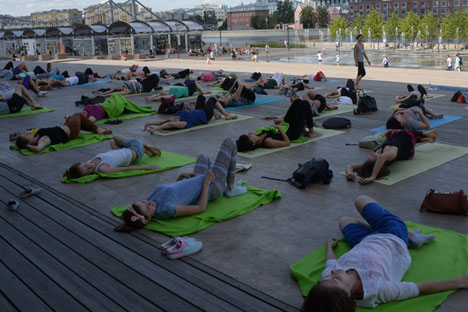 Yoga classes in the Museon park. Source: RIA Novosti/Vladimir Fedorenko
Leading a healthy lifestyle has recently become quite fashionable in Russian cities, with more and more people seeking to take part in active pastimes. Many entrepreneurs are now trying to capitalize on this trend.
Taking Zumba outside
The trend in the last few years has been to perform indoor sports out in the open. Alina Antipova and her friend Anora Muborakova started the ArtCom project, which promotes Zumba, a Latin dance fitness discipline involving aerobic elements. "Zumba is perfect for us," says Antipova. "It combines everything: difficult physical activity, cardio exercises and dance. I love dancing and Anora is a great instructor."
The girls hold their lessons four times a week in various gyms in Moscow. Last summer they gave free outdoor lessons all over the city and participated in charity events. "It is a sort of investment in the future," Antipova continues. "Many of those who came to our outdoor lessons then came and paid to work out in our gyms.
Antipova and Muborakova are among the few in Moscow to try to attract the elderly to their courses. "Grandmas and grandpas make a great audience!" says Antipova. The friends have big plans: to develop their own creative studio that would combine three disciplines: zumba, the English language and handicrafts.
Yoga in the park
In the last five-seven years, public parks in Moscow and across Russia have been rejuvenated. Money is being allotted for planting greenery and building fountains, as well as leisure and rest areas.
Outdoor activities have inspired the young Hatha yoga instructor Rauf Asadov to start his own company. In 2013 his Organic People team started holding summer courses in Moscow parks. "The fees were purely symbolic and were collected with a donation box at the end of each lesson," says Asadov. "But in order to develop the project, which is also a social project, it will require external funds."
In the beginning, Organic People did not have any problems. Asadov was able to motivate the park administrators with his ideas and enthusiasm, and had no difficulty in organizing yoga sessions in public spaces. However, the project ran into problems when the Moscow Municipal Park Administration changed teams in 2014, explains Asadov.
"A new director came and decided to hire new people to manage the project. With the old team I worked on trust, without contracts or fees. I tried to make an agreement with the new team, but no one would make any concessions. Thus they took my idea and almost the project itself. But it didn't stop me. I started collaborating with other Moscow parks, as well as the parks in the Moscow Region and in other Russian regions. I don't know how the situation will develop. But people continue doing yoga in the parks. It's great!"
The Yoga Federation has been operating since 2003, and played a key role in raising public awareness of yoga in Moscow. Today the federation is a network of gyms that organizes courses, with its own school and instructors. "It's difficult to say that the yoga gyms are a business," says Sergei Litau, president of the Yoga Federation, which is one of the largest networks of yoga gyms in Russia. "It is more of a hobby. The money they bring in is very little, while there is a lot of work. Basically, you really need to love yoga."
In Russia, yoga is dependent on the season. Course attendance declines during the summer, the long winter and the May holidays. "The Yoga Federation participates in outdoor projects," continues Litau. "But this did not prove to be very profitable, and we don't have any finances to support these projects."
Wakeboarding and wakesurfing in the Moscow suburbs

The development of extreme sports is often based exclusively on private initiative. Anastasia Podshibyakina, marketing manager of the British brand GlideSoul, organizes wakeboarding and wakesurfing competitions in Russia. She was present when these extreme disciplines first became popular in the country.
"Before that I had been working at one of Russia's sports shop networks and in 2010 we started developing wake," says Podshibyakina. "We were the first to bring professional athletes to Russia. We built a wake park in Strogino [a neighborhood in Moscow's northwest – RIR]. At first people would just watch. But then there was a real boom in cable wakeboarding and I also got involved. It was really fun. Before, wake get-togethers were limited, but now, with the appearance of cable wakeboarding, the sport has become a mass event."
All rights reserved by Rossiyskaya Gazeta.