Stronger ties on the cards for India and Russia's Astrakhan region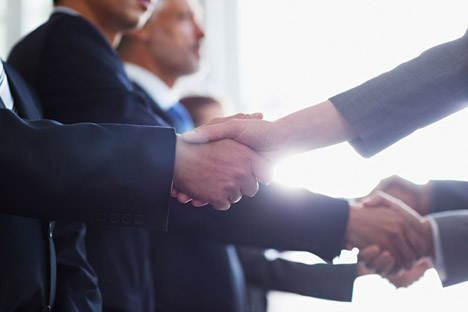 The time had come to renew and stimulate the trade and economic relations between Russia and India. Source: Alamy / Legion Media
Indian businesses are interested in Astrakhan's agricultural projects and alternative energy undertakings, keen on expanding the usage of the North-South transport corridor for a larger-scale goods' exchange with Russia.
A delegation from the Astrakhan region led by regional governor Alexander Zhilkin has arrived in India, Novosti Astrobl news agency reported on its website. The delegation includes ministers from the regional government and representatives of the Astrakhan business community. A meeting was held today in Delhi at the Associated Chambers of Commerce of India (ASSOCHAM), at which Indian businessmen were shown a presentation on the economic potential of the Astrakhan region and, in particular, special economic zones on the Lotus model.
Opening the meeting the co-chairman of the Russian-Indian Business Council and a member of ASSOCHAM Mr Rajinder Sethi announced that the time had come to renew and stimulate the trade and economic relations between Russia and India. And in connection with this, the visit by the Astrakhan delegation could be seen as the first steps on this road, and the Associated Chambers of Commerce of India is a unique platform for achieving long term cooperation. "Astrakhan Region is well known in India as a territory for success," said Mr Sethi. "This doesn't only mean black caviar, today it is a large transport hub and the shortest route for transporting goods from India to Russia, with a developed shipbuilding industry and an oil and gas basin for Russia. For us this is an interesting partnership."
Astrakhan Governor Alexander Zhilkin gave a succinct answer to the question on why Astrakhan was of interest to India in his speech. "You can look at our region not only as a territory of a regional scale, but also as a region for penetrating the markets of neighbouring countries bordering the Caspian Sea", announced Alexander Zhilkin. He also emphasised the uniqueness of the North-South transport corridor which provides for the transportation of goods through Astrakhan to the central and northern regions of Russia and to Europe. "And now our joint mission is to renew the operation of these unique routes," said the Astrakhan governor.
Furthermore, Indian business might be interested in agricultural projects in Astrakhan Region, including the potential for logistical centers and processing facilities, possible solar and wind energy generation, port capacity and cargo transportation, and also pharmaceutical manufacturing.
The meeting was concluded with the signing of an agreement between the Associated Chambers of Commerce of India and the Astrakhan Chambers of Commerce and Industry, which, in particular, discusses sharing information on general economic conditions, trade policy, both areas of activity which will assist in developing trade and investment between India and Russia, on the mutual development of tourism in the two countries and cooperation in the development of joint projects.
Last year a delegation from India visited Astrakhan to test the readiness of the Astrakhan water-transport network for transit of Indian containers through the North South International Transport Corridor.
All rights reserved by Rossiyskaya Gazeta.