First test-launch of BrahMos missile from Indian Su-30MKI in March 2015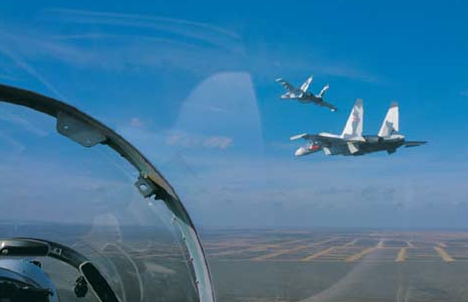 Su-30MKIs. Source: Sukhoi
The Indian Air Force will start using the Su-30MKI with BrahMos missiles in the year 2016.
The first test launch of a Russian-Indian BrahMos air-launched missile from a Su-30MKI of the Indian Air Force has been scheduled for March 2015, RIA Novosti learned on Wednesday from Alexander Dergachev, deputy director of NPO Mashinostroyeniye.
Established jointly by India and the Russian Federation, the supersonic BrahMos cruise missile started to enter the Armed Forces of India in 2005. The missile has a range of 290 kilometers, and is capable of carrying a warhead weighing up to 300 kilograms. Land and sea trials have been successfully conducted, and now plans call for testing it from the Su-30MKI.
"Test flights using the Su-30MKI have started, with mock-up models of the missile in the same size and weight configuration. Take-offs and landings are now being practiced. The first training launch from a fighter jet is scheduled for March of this year," said Mr. Dergachev.
According to him, these flight tests with a model of the missile will be carried out by two modernized Su-30MKI. Last August, Sudhir Mishra, the Managing Director of BrahMos Aerospace, told RIA Novosti that according to the contract, the Indian Air Force will start using the Su-30MKI with BrahMos missiles in the year 2016.
This missile was created in 1998 by the Russian-Indian joint venture BrahMos Aerospace, named after the rivers Brahmaputra and Moskva. The company was founded by India's Defense Research and Development Organization (DRDO) and Russia's NPO Mashinostroyeniye. The Russian company owns 49.5% of the shares, with the remaining 50.5% stake being owned by DRDO.
First published in Russian by RIA Novosti.
All rights reserved by Rossiyskaya Gazeta.