Sanctions have spurred Russia-India cooperation - Russian official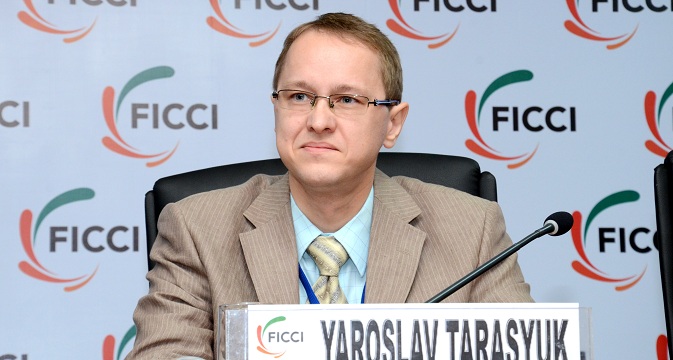 Yaroslav Tarasyuk: "The sanctions have led to an intensification of bilateral cooperation." Source: Courtesy Trade Mission of Russian Federation in India
In an interview with RIA Novosti, Yaroslav Tarasyuk, Trade Representative of the Russian Federation, speaks about qualitative changes in India-Russia relations in the wake of Western sanctions directed against Russia and India's increased interest in Russian oil and diamonds.
How will Russia-India relations develop in the next few years?
First, it is possible that a free trade agreement will be signed between India and the Eurasian Economic Union (EEU). Free trade will become the main component in the new higher level of our relations with India.
Second, we have a treaty on the promotion and protection of investments. We have set ourselves a target of at least $15 billion investment cooperation between the two countries in the coming decade.
Third, new intergovernmental mechanisms have been formed for strategic planning of economic cooperation and for the resolution of disputes. Last year, two working groups were established. The first is the working group on strategic areas of cooperation, led by the co-chairs of the intergovernmental commission, Deputy Prime Minister Dmitry Rogozin and India's External Affairs Minister Sushma Swaraj, and the other is the working group on disputes resolution.
Fourth, we have the sectoral cooperation programmes, particularly in nuclear energy and in the oil and gas field. Similar programmes could well be developed in the fields of metallurgy, chemical industry, pharmaceuticals, and information technology.
Another qualitative change is our closer industrial cooperation. The 'Make in India' strategy, in a number of industries, has achieved a technological level that allows us to speak of the possibility of joint development, such as, for example, in the aircraft industry.
Sixth, there are the long-term contracts for the supply of certain goods that year after year are in demand in the Indian market. Such contracts have already been signed for rough diamonds and LNG. During the summit, Rosneft and Essar reached an agreement on Russia providing crude oil over the next decade.
Is there any interest in India from Russian entrepreneurs?
In recent years, we have seen the interest of Russian business leaders in India increasing significantly. Every week we receive around 15-20 requests from enterprises, wishing to supply Russian goods or find new partners. Many requests are in the medical equipment field.
How is the idea of using national currencies in mutual settlements progressing?
The task of making a full transition to using national currencies in settlements was noted in a joint statement after the conclusion of the annual summit meeting in December last year. The corresponding negotiations are now underway between the Central Banks of Russia and India, and soon they should present their recommendations on what steps must be taken to stimulate this process.
Did the sanctions against Russia and counter-sanctions have an impact on Indian companies operating in the Russian market?
The sanctions have led to an intensification of bilateral cooperation in the supply of food products, primarily spurring the interest of Indian milk and meat producers. Late last year, four Indian buffalo meat producers obtained permits to import their products into Russia. Currently, they are negotiating the supply contract details. Next in line are the dairy producers.
Is cooperation developing between our regions and Indian states?
The visit to India in November 2014 by a representative delegation from the Republic of Tatarstan, headed by President Rustam Minnikhanov, was very productive.
The fact that the forum in Gujarat was attended by representative of five Russian regions – Astrakhan, Altai Krai, Tatarstan, Khakassia and the Khanty-Mansiysk Autonomous Okrug – already shows great progress has been made. In addition, during the forum, India's Prime Minister Narendra Modi found time from his busy schedule to meet separately with Astrakhan's Governor Oblast Alexander Zhilkin.
Both Russia and India are multinational countries with strong regions. Therefore, any higher level of relations between Russia and India cannot take place without strong regional ties.
The interview is abridged. Read full version published in Russian by RIA Novosti.
All rights reserved by Rossiyskaya Gazeta.