Public phones in Moscow to be equipped with Skype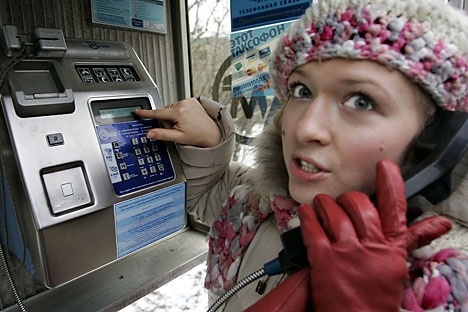 Most remaining payphones will be concentrated in the residential areas of the capital. Source: Vitaly Belousov / TASS
New initiative will allow users to pay bills and use internet from payphones.
Moscow is to remove a third of public payphones from its streets, but those remaining will be equipped with additional features, according to the information technology department of the Russian capital's administration.
The city authorities have already demonstrated the new multifunctional devices, via which it is possible to access the internet, pay mobile phone bills or make calls via Skype.
"Payphones must be transformed into another type of service. Before they were just fixed-line telephones, but now they can be an information kiosk providing a wide range of possibilities," says Andrei Yershov, Director of MGTS (Moscow city telephone network, a company that provides communication services in the capital). "Payphones can act as hot spots (for Wi-Fi access), provide the opportunity to make calls via Skype or another service,"
The experimental device has a touch screen that allows you to select several services, including access to the internet and the option of paying utility bills.
There are 3017 payphones in Moscow, most of which (about 2,000) are installed in public facilities - schools, hospitals, dormitories; other phones are located on the streets.
According to the information technology department, most remaining payphones will be concentrated in the residential areas of the capital.
According to the head of the TelecomDaily research company Denis Kuskov, expanding the range of services will make payphones popular.
"The appearance of the IT component is useful," said Kuskov. "As for Wi-Fi and access to Skype - it all depends on the ease of use of the service and its cost. If the price is appropriate, and the service is easy to use, people will use the new payphones."
First published in Russian in Izvestia.
All rights reserved by Rossiyskaya Gazeta.