Bashkortostan eyes Indian opportunity, seeks closer economic ties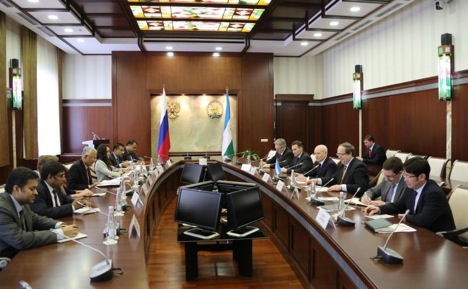 India's ambassador to Russia P.S. Raghavan talked to Bashkortostan's President Rustem Khamitov in Ufa. Source: Press service of the Republic of Bashkortostan
The Russian province of Bashkortostan, whose capital Ufa will host the sixth BRICS summit in July, is upbeat about prospects of expanding cooperation with India in diverse sectors, including investments, trade, and education.
Make in India, and Make in Bashkortostan. It's the story of an emerging synergy between the Russian Republic of Bashkortostan, an industrial hub which is looking for greater trade and investment with India.
The prospects of cooperation between India and Bashkortostan came up for discussion during the February 1-3 visit of India's ambassador to Russia P.S. Raghavan to the capital of Bashkortostan, Ufa, the venue of the sixth BRICS summit to be hosted by Russia in July this year.
The Indian envoy met Bashkortostan's President Rustem Khamitov and held wide-ranging talks. According to the official press service of the Republic of Bashkortostan, the two discussed prospects of expanding industrial, cultural, economic and trade cooperation.
According to Khamitov, Bashkortostan is interested in attracting investment from India. "We have much in common with your programme 'Make in India'. We also have such a programme – 'Make in Bashkortostan', and investors are coming here. Today over 100 major projects, with a total value of about $20 billion, are being implemented," said the leader of Bashkortostan.
Trade between India and Bashkortostan has been growing steadily. Last year, it reached $400 million – twice higher than the trade volume in 2013. The two sides have expressed their desire to double this figure. Currently, 10 companies with Indian capital operate in Bashkortostan.
The most promising areas of cooperation, according to the Indian envoy and the province's president, are pharmaceuticals, information technology, and agriculture. Today, Bashkortostan exports fertilisers, rubber, various equipment, and ferrous metal products to India. From India, the Russian province gets, among other things, medications, equipment and metal products. India is now the seventh largest foreign trade partner of Bashkortostan.
Bashkortostan is determined to work closely with India in the area of pharmaceuticals, in which Indian companies have proven strengths and competitive advantages. Khamitov has said that India could take part in the construction of a new plant for the production of basic infusion solutions in plastic packages.
Another priority area of cooperation is education. Currently, 65 students from India attend universities in Bashkortostan, mainly the Bashkir State Medical University (BSMU). The Indian envoy expressed confidence that cooperation in the educational sphere can be strengthened by creating joint research projects and conducting active student exchanges. There are plans to create a network of Russian universities that will collaborate with a network of Indian universities. The envoy hoped that Bashkir universities will also participate in this initiative.
However, there is an information barrier to be surmounted. The strengthening of bilateral ties is, to a large extent, hampered by the Indians' insufficient knowledge about Bashkortostan. To address this problem, the parties have agreed to distribute information leaflets in India about Bashkortostan. "An information booklet about the republic will be jointly prepared by the Embassy of India in Moscow and the India and Bashkortostan Friendship Society. We want that booklet to include information about the history of our relations and cooperation in such areas as education, science, technology, and culture," Business FM quoted the Indian ambassador as saying.
In the summer of 2015, Ufa will be the venue for the BRICS and Shanghai Cooperation Organisation (SCO) Summits. In addition, in the autumn, a small business forum is being planned to be held in Ufa, which will be attended by regional representatives from member states of SCO and BRICS. Khamitov has voiced his desire to also invite leaders from Indian states, and asked for assistance in organizing this business conclave. The Indian envoy, on his part, underlined that the capital of Bashkortostan is already well prepared to host the two summits, but considering that there are still five months left to finalise the preparations, he feels confident that everything will be done at the highest level.
All rights reserved by Rossiyskaya Gazeta.