No borders in India-Russia defence ties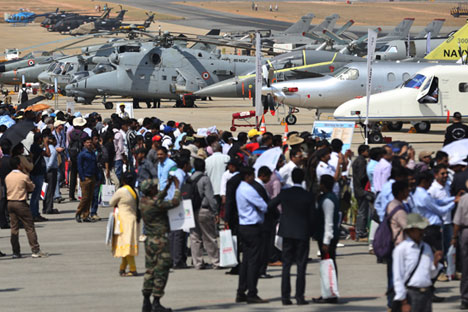 The Aero India-2015 air show was held February 18-22. Source: AP
The recent Aero India show has underlined the special nature of India-Russia defence relations, which can be described as "borderless" in so far as the two countries enjoy a high level of strategic trust and jointly collaborate in making high-tech weaponry.
The recently concluded Aero India-2015 at Yalahenka Air force station near the southern Indian city of Bengaluru reinforced that Russia still continues to retain its preeminent position to satisfy India's growing defence requirements. The complementarily of India and Russia in the defence sector is well known, and the developments during the four-day long exhibition have brought home the point that with the evolving world order, and despite evolving competition in Indian markets, Russia will continue to become a major supplier of weaponry to India.
There is a lot of debate around Rafale, the French fighter aircraft. Some analysts would argue that Rafale would bea better match for the Indian Air Force. But that may not be the case. The IAF chief has pointed out that though India is interested in having Medium Multi Role Combat Aircraft (MMRCA), Rafale can't be a replacement of Sukhoi-30 as both possess different capabilities. Though the Rafale deal has been on the card for the last three years, there has been no finalisation on it as India and France have developed differences, particularly on the issues of the cost escalation and transfer of technology. India's defence ministry will likely take a decision on Rafale next month, and so far there has not been any green signal that the deal will go through.
Contrast this to the Russian policy of 'no borders' with India in the context of jointly designing and building defence products. While speaking at Aero-2015, the head of International Cooperation Department of Russian company Rosetec, Viktor Kladov, stated that Russia is quite keen to meet IAF's requirements for cutting-edge aircraft. The traditional partner is not purely motivated by profit-loss, or give-take, framework. Rather, it is interested in fully cooperating in developing India's indigenous arms industry. "We don't sell like other nations. We have a very special relationships … When it comes to India we don't have any borders… We are not inclined to tell India what to do because we are friends and partners," said Kladov.
It is doubtful whether the other suppliers, whether active or potential, can adopt such an approach while dealing with India.
India and Russia would soon finalise the FGFA deal. There are some issues in the deal which leaders of both the countries are actively sorting out. After the visit of Russian President, Vladimir Putin last year, and Defence Minister Sergei Shoigu last month, the leaders have decided to fast-track the defence deals. This year India and Russia will likely finalizs many deals, including the delivery of 71 Mi-17V-5 transport helicopters from Russia to India. Russia is interested to strike a deal on another shipment of Mi-17V-5 helicopters. Moscow is ready to supply New Delhi Kamov Ka-31 (Helix) helicopters to be used on the Vikrant-class aircraft carriers. Russia is also looking to supply Sukhoi Superjet 100, with 8 to 108 passenger seats, to India. Both the countries would likely seal a deal on the second batch of 29 MiG-29K/KUB carrier based fighters by 2016.
The major deal regarding the Fifth Generation Fighter Aircraft (FGFA) will likely be finalised this year. The FGFA is critical forthe Indian Air Force's 'future capability', and is crucial for its evolving structure, revealed India's Air Force chief. This year, both the countries would develop a detailed design of cooperation in developing the aircraft. A successful deal on the FGFA would not only strengthen Indian armour, but would be another landmark in defence cooperation.
Russian companies participating in the Aero-2015 exhibition vigorously backed the Indian government's 'Make in India' policy in strengthening indigenous defence industry. The head of Russian United Aircraft Corporation (UAC), Yuri Slyusar,struck an upbeat note about the prospects of India and Russia jointly manufacturing the engine for the Su-30MKI, the major fighter aircraft of the IAF.
Among India's suppliers, Russia has been forthcoming in sharing technologies with India. This has helped serve a two-fold purpose. Besides bolstering India's defence and security, it has also enabled the growth of India's indigenous technology.
Russia's arms establishment appears to have taken note of the changing world, in which there many defence suppliers have emerged. The new players have attempted to woo India's market and benefit from the country's fast growing economy. Russia appears to be ready to play in this new format. Kladov stressed this changing reality by arguing that Russia has no problem in India buying from other suppliers. Unlike the Cold War years when India was considered a minnow in international politics, the post-cold war India has grown rapidly with its economy crossing $2 trillion. India's robust economy and its rise in purchasing power can suitably match its security and defence needs. Russia is not only India's major arms supplier, but also its traditional partner. As the developments during the Aero India 2015 showed, the India-Russia defence partnership looks set to be strengthened in the months to come.
Dr. Debidatta Aurobinda Mahapatra is an Indian commentator. His areas of interests include conflict, terrorism, peace and development, South Asia, and strategic aspects of Eurasian politics.
All rights reserved by Rossiyskaya Gazeta.