Stavropol set to expand economic ties with India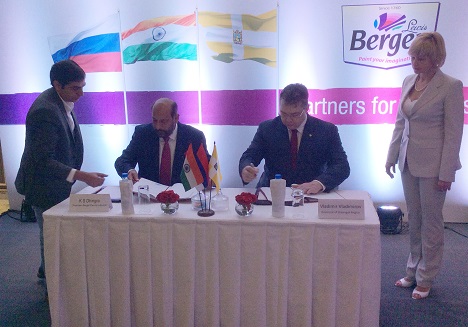 Signing an agreement with Berger Paints Company. Source: Press Service of the Governor of the Stavropol Krai
The plan to expand economic ties between India and the Russian province of Stavropol Krai underlines the new focus on building region-to-region cooperation between the two countries.
In mid-February, a delegation from Stavropol Krai visited India, led by Governor Vladimir Vladimirov. The visit was aimed at developing trade and economic cooperation between the Krai and India, and its national and state chambers of commerce. In addition, plans were made to develop strong economic ties with the leading Indian manufacturer of paint products, the Berger Paints Company, with which a cooperation agreement was finally signed on February 18 in New Delhi.
The Stavropol News website reported that under this agreement, an enterprise for the production of industrial and facade paints and varnishes would be built in Stavropol. This project should provide at least 50 new jobs. The commissioning of the production capacity will be carried out in phases, while the final plans of facility should be developed and approved by the end of this year.
Representatives of Berger Paints, as well as many other Indian industrialists and business executives, visited Stavropol Krai twice in the recent past – in November last year and at the end of January this year. They fully appreciate the industrial potential offered by this region, as well as the current opportunities for bilateral cooperation.
According to Vladimirov, the development of partnerships between India and the region look very promising. "Last year, the trade turnover between the Krai and India surpassed $10 million, yet the history of our interaction has known even better periods. I think that today many new opportunities have opened up to strengthen business ties and enhance their mutually-beneficial economic impact," the newspaper FederalPress quoted the governor as saying.
The establishment of mutually beneficial relations between Indian and Russian regions has recently become more widespread. A number of Russian and Indian regions already have established partnerships with each other.
Yaroslav Tarasyuk, Russian Trade Representative in India, has stressed that the new level of quality relations between Russia and India cannot happen without strong regional ties.
Last year, Tatarstan President Rustam Minnikhanov visited India twice. Recently, India's ambassador to Russia P.S. Raghavan visited Bashkortostan. In addition, economic ties are dynamically developing between India and the Republic of Crimea. The Indo-Russian Partnership Society was established to achieve this goal.
All rights reserved by Rossiyskaya Gazeta.