'I would just like to get away and live a quiet life' - screenwriter Alyona Barsukevich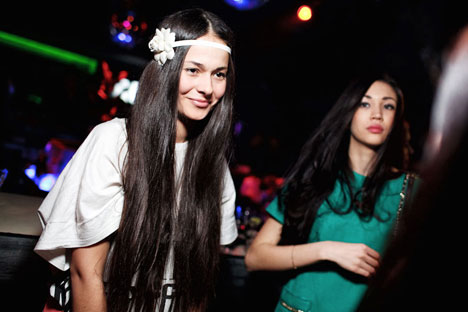 Screenwriter Alyona Barsukevich. Source: Personal archive
RIR continues its Coping with the Crisis series, a collection of stories about how people of different social groups are surviving the economic crisis and how their lives have changed. This time we speak to a young specialist, screenwriter Alyona Barsukevich, who admits that it is becoming difficult to plan a future in Russia.
"Why?" and "How do you live with this?" – these are the questions that you ask when you look at the current prices for habitual purchases and previously accessible goods, says Alyona Barsukevich, a 22-year-old screenwriter and specialist in the media and digital art field.
Judging by the growth of prices for essential goods, it has become clear that the banking sphere, with its sensitivity to macroeconomic shocks, and companies with external debt will not be the only ones to suffer from the crisis.
The leap in prices ranging from 40 to 200 percent everywhere in Russia (in some regions prices for separate goods have increased almost by 654 percent) registered following assessments of the country's main retailers has confirmed the fears: The crisis will affect everyone.
Painful prices
"I realized that the crisis began a month ago when I entered a store and saw unripe tomatoes with a price tag of 300 rubles ($5) a kilogram, when they had recently cost 150 rubles," says Barsukevich. "I'm a vegetarian and there has been a sharp increase in the price of vegetables, as well as cereals."
People are now buying non-perishable goods in an attempt to stock up in case of a protracted period of high prices. Before, similar flashes of panic were caused by speculators attempting to create an artificial deficit and profit from the panic. But as it turned out, announcements about price increases were not just rumors.
"I also panicked before New Year's Eve, when people started talking about price hikes," Barsukevich remembers. "I bought large loudspeakers and studio monitors. Actually, I needed them and I knew that if back then they cost 40,000 rubles ($615), in the future they would cost 80,000 rubles. Another example: Now I'm thinking of buying a motorcycle that a month ago cost 160,000 rubles ($2,460), but now it costs 200,000 rubles ($3,000)."
Barsukevich is still aiming to buy the motorcycle, and she still refuses to save on food and clothes. "But in order to eat and dress well, I'm ready to save money on parties. It's one of my favorite things to do, but I am ready to make this sacrifice."
Fear of unemployment
The government is openly suggesting that people get ready for an increase in unemployment. According to the Ministry of Labor, 650,000 people are set to lose their jobs in 2015, amounting to an increase of 6.5 percent in unemployment. However, economists are predicting the figure could rise by as much as 8 percent. The prospect of ending up without a job is the most frightening of all, says Barsukevich.
"If I'm fired, I'll be in serious trouble," she says. "I have a mortgage, and a big one. I pay about 60,000 rubles a month ($920), and I don't know what I'll do if I lose my job."
Barsukevich took out the 20-percent-rate mortgage in 2014. "I was lucky – I got a promotion before the crisis," she says. "The layoffs took place in another department. With the current salary I feel rather comfortable, but the mortgage does pose certain limits occasionally."
Living for today
The crisis has become an additional reason for those wanting to leave Russia. Barsukevich admits that she is also planning on learning Spanish, moving to Spain and working remotely. "This year I want to save up $5,000 and leave so that I wouldn't have to think about all this."
In the current situation you must live for today, since saving money and planning for the future is becoming difficult.
"It's already a year that I haven't been able to travel abroad because I don't have enough money. But now, as the ticket prices are growing and the euro is growing, there is no feeling of being safe."
It is possible that people will have to begin everything anew as a result of the crisis, says Barsukevich. "But I would just like to get away and live a quiet life."
All rights reserved by Rossiyskaya Gazeta.