Russia's Sberbank to stop financing its branches in Europe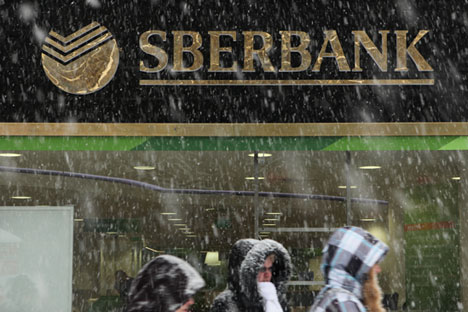 This year the branch banks must provide their own liquidity. Source: Alamy/Legion Media
One of Russia's largest banks plans to reduce funding and may put up for sale some of its European branches as part of an anti-crisis scheme.
European branch banks that will go on sale are supposed to be determined by July 1, 2015, while by mid-March it will be known the amount the bank plans to save through staff cuts and property sales. This basically means that the state-owned bank will stop financing its European branches and will wait until they return the resources given to them in the previous years.
Sberbank operates in nine European countries: Sberbank Europe AG manages branches in Slovakia, the Czech Republic, Hungary, Slovenia, Croatia, Bosnia and Herzegovina, Serbia, Germany and Ukraine.
VTB attracted 2 billion euros through deposits
VTB's European branches started attracting retail deposits in Europe in 2011. Offering higher interest rates than their competitors, VTB branches were able to attract more than 2 billion euros through Internet banking in the first couple of years.
A Sberbank representative told Vedomosti that the bank is perfecting its business model in Europe in order to create a stable, profitable and independently funded banking group. The source declined to comment on the amount of money and on duration of credit lines that Sberbank Europe had received.
According rating agency Fitch, Sberbank spent 1.4 million euros to finance Sberbank Europe in the third quarter of 2013. The figure has changed little since then, Vedomosti says, citing a bank contractor.
A source close to Sberbank management confirmed the plans: this year the branch banks must provide their own liquidity, including through methods for attracting retail deposits. In his words, the banks have already learned how to attract money - the amount that individual clients have deposited in Sberbank's European branches now equals approximately 250 billion roubles (3.6 billion euros, according to the March 4 exchange rate).
Sberbank Germany's website, where customer deposits were opened last year, says the bank is currently offering fixed term deposits of 36 months at interest of 2.2 percent. In the Czech Republic Sberbank offers an annual interest of 1.23 percent. Western banks are offering much less. For example, Commerzbank is offering only 0.15 percent on term deposits.
Due to western sanctions, Sberbank's access to international capital markets (with terms over 30 days) and possibilities of financing in foreign currency are limited, however, the state-owned bank can substitute them with client deposits, says Gazprombank analyst Andrei Klapko.
Sberbank may also choose to sell some of its European branches. In February, Czech daily Lidovky said that Sberbank was prepared to sell its Slovak and Hungarian branches.
First published in Russian by Vedomosti
All rights reserved by Rossiyskaya Gazeta.