Russia, India JWG to cooperate on railways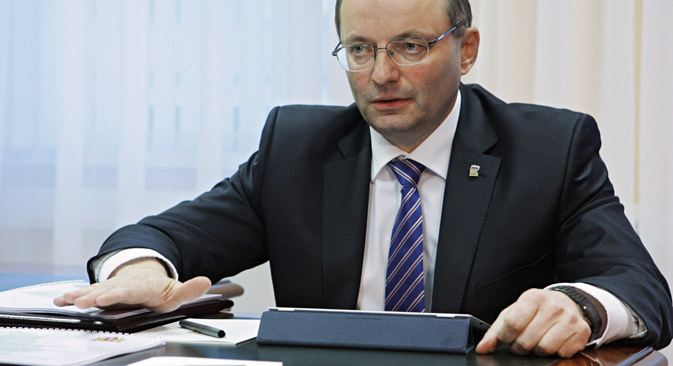 Alexander Misharin, first Vice-President of JSC 'Russian Railways'. Source: Alexei Druzhinin / RIA Novosti
At the end of the working visit to India, Alexander Misharin, first Vice-President of JSC 'Russian Railways' told RIR that the two countries had agreed to establish a joint working group to explore prospects and projects for further cooperation between the two countries to develop the railways.
With whom did you meet in India, and what agreements have been achieved?
We met with several companies, including the Indian Railways and the division which is engaged in the creation of new freight corridors and the organization of high-speed traffic.
We agreed on the resumption of cooperation and the participation of Russian companies here in three areas: the creation of freight corridors, the modernization of infrastructure and increasing traffic capacity, including speed and security.
What will be the mechanism of interaction?
We have agreed to establish a working group on the formation of these projects. I think that this proposal will be formalized in the near future.
Did you discuss the participation of Russian Railways in the tenders?
We want to participate in tenders for railways electrification and asked the Indian side for the conditions.
What kind of joint projects are being discussed? Direct contracts between companies, or your participation in tenders?
For now we are talking only about our participation in tenders.
Did you discuss the acquisition of Russian rolling stock by India?
Yes we did. We demonstrated the technology and the type of rolling stock, which is produced at Russian enterprises, including «Transmashholding», «Transport Machines» and others.
There is interest, but we have not discussed the actual terms of delivery yet.
Will this issue also be discussed by the working group?
Absolutely. The supply and manufacture of rolling stock will definitely be on the agenda.
When is the working group expected to identify the first projects to develop cooperation?
I believe, before the end of the year.
How do you see India's railway budget for the next fiscal year?
Indian railways is comparable with the Russian railways, both in terms of traffic volume and length of lines.
As for the budget, considering the condition of Indian railways, it is not enough, but it is important that the government is taking steps to increase it.
We were told that in the next two to three years, investments would be increased by 40 percent. The program which has been adopted for the next five years is complicated. We hope it is implemented.
All rights reserved by Rossiyskaya Gazeta.