India proud to be armed with the Su-30MKI fighter – Indian Minister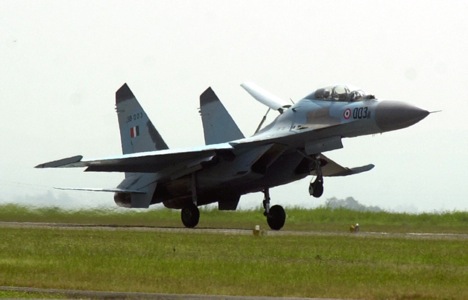 The IAF has ordered a total of 272 Russian Su-30MKI fighters. Source: AP
The Indian Air Force is proud to possess the Sukhoi (Su-30MKI) fighter plane, one of the world's most powerful jet aircraft, said India's Minister for Skill Development and Entrepreneurship, Rajiv Pratap Rudy, who is himself an accomplished pilot. By 2018, India's Air Force is expected to possess 14 Su-30MKI fighter jet squadrons.
The Su-30MKI fighter aircraft which India has acquired from Russia is one of the most powerful in the world and a source of pride for the Indian Air Force (IAF), said Rajiv Pratap Rudy, while inaugurating the first Russian-Indian Youth Forum.
"India takes pride that we have in our arsenal the Su-30MKI, which is one of the most powerful fighter planes in the world ", said Rudy, Minister for Skill Development and Entrepreneurship.
A Russia-India youth summit will take place on March 27. It is expected that more than 300 people aged between 18 and 35 will participate in the summit. The Russian Union of Youth is organizing the summit with sponsorship from Rossotrudnichestvo in India.
Rudy, an accomplished pilot and former state minister for civil aviation, was among those involved in organising the Aero India 2015 air show last month in Bangalore, and took a 40 - minute ride himself on a Su-30MKI fighter, as the co- pilot.
Rudy is not the first Indian politician to fly aboard the Su-30MKI. In 2009, India's only lady President, Pratibha Patil, trained for and took a 20 minute test flight on this aircraft.
The IAF has ordered a total of 272 Russian Su-30MKI fighters. These will be assembled in India under a license granted to Indian airplane construction company Hindustan Aeronautics Limited, a government-owned enterprise.
Since 2007, Russia has supplied India with 50 pre-assembled Su-30MKI fighter jets, and under license, another 134 aircraft have been assembled in India. By 2018 the IAF is likely to establish 14 Su-30MKI fighter squadrons, with 272 aircraft in service.
First published in Russian by TASS.
All rights reserved by Rossiyskaya Gazeta.