New sources of finance for Russian companies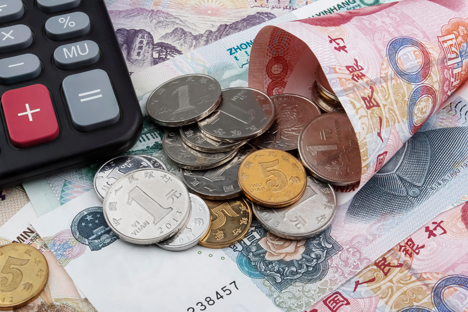 An alternative to selling share capital is to attract financing from Asian creditors. Source: Alamy/Legion-Media
After Western countries imposed sanctions against Russia, Russian companies lost access to cheap European and American credit financing. In these conditions, companies interested in pursuing aggressive growth now have two alternatives – the selling of their own shares and/or turning to the Asian capital markets.
After Western countries imposed sanctions against Russia, Russian companies lost access to cheap European and American credit financing.
"In 2014-2015, Russian companies have greatly reduced their amount of borrowing, focusing rather on repayment and refinancing of existing debts," said Anton Soroko, analyst at the Finam Investment Holding. Soroko noted that dollar payments on corporate debts peaked in December 2014. After that, Russian borrowers practically ceased looking for loans in Europe and the USA, but nevertheless, they still need to seek sources of additional financing.
Sale of shares
Most interested in attracting additional financing are the rapidly growing companies, especially Russia's network retailers. In particular, in February 2015, Russia's largest retailer Magnit (with a network of 10,000 stores) sold a 1% stake in its business to international investors for 9.8 billion rubles ($162.35 million). In this case, the buyers snapped up the shares in in less than a day.
"This company managed to find investors really quickly," said Anton Fomin, analyst at InstaForex. In 2015, the network plans to open about 2,000 small stores and 90 hypermarkets. Given the current economic crisis in Russia and the fact that this network operates in the affordable price segment, the demand for its stores keeps growing. In 2014, the net profit of the retail network increased by 33%, climbing to 47.38 billion rubles ($784.9 million).
Another Russian retailer, Lenta, has decided to follow the example of Magnit. According to Russian business newspaper Vedomosti, the company expects to raise up to $250 million, but details of the share package, which will be put up for sale, have not been made public yet. In the spring of 2014, the company's IPO on the LSE sold a 22% stake for $952 million. Just like Magnit, the company needs money for rapid expansion, expecting its revenues to grow 34-38% in 2015.
The road to Asia
An alternative to selling share capital is to attract financing from Asian creditors. In particular, Chinese banks are already actively lending money to Latin American countries, which also find themselves deprived of access to the international financial markets, particularly Venezuela, Argentina, and Ecuador. According to the Inter-American Dialogue Company, in 2014, Chinese banks issued $22.1 billion in loans to Latin American countries, while in the period from 2005 to 2014, banks from China provided these countries with $119 billion in credit financing.
Russian companies have yet to win the trust of Chinese bankers.
"Cooperation with Asian partners, while not yet reaching proportions to replace the European capital markets, will, in the long-term, witness increasing volumes of transactions. In the future, of course, we will see continued growth in this direction," said Soroko.
The possible placement on China's internal market of the so-called "panda bonds", was announced by one of the largest Russian banks Gazprombank (third in Russia in terms of total assets). On the path to this goal, the bank has already received a rating from the Chinese Dagong Rating Agency – as the presence of a local rating is one of the conditions for entering the Chinese market.
In July 2014, the Russian bank came under US and European Union sanctions, which were designed to restrict a number of companies from attracting long-term financing through the placement of Eurobonds and borrowing money. In addition to Gazprombank, the Chinese rating agency has issued ratings to several other companies as well, including Gazprom Neft and the gas monopoly itself – Gazprom.
All rights reserved by Rossiyskaya Gazeta.