Dairy products: possible niche for Indian suppliers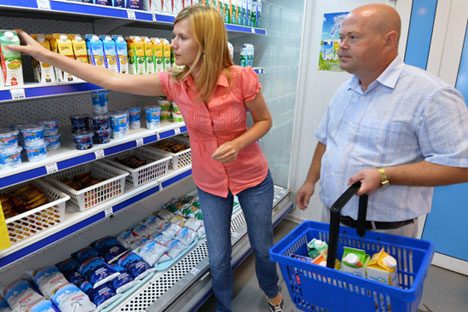 Last year, the share of Russian milk in percentage volume of total sales was 78.3%. Source: Alexander Kondratuk / RIA Novosti
After the meat market was opened up for Indian producers of buffalo meat there has been speculation that the opening of another segment of the Russian food market was imminent for Indian suppliers - the milk market – and could significantly raise their exports.
If Indian suppliers of milk and dairy products agree with Russians opening up their market, this could significantly increase their exports.
Opening of the meat market for Indian producers of buffalo meat has been followed by speculation that opening of another segment of the Russian food market was imminent for Indian suppliers - the milk market.
Indian companies only last year expressed interest in supplying dairy products, including milk powder and butter, to Russia. However, as Alexey Alekseenko, assistant manager of Rosselkhoznadzor told RIR, they have not yet received the permission for supplies. Even when the permission is granted, Indian businesses will have to adapt to the particular nature of the market of a big northern country, with its habits and nuances, experts believe.
Moscow is interested in importing milk and dairy products. The need for foreign supplies has grown after Russia introduced retaliatory sanctions against food products from the US, EU, Australia and some other countries.
This has caused a significant change in the market. While the price of milk remains at an acceptable level so far, the price of cheese, for example, has rocketed. Currently, the price tag of medium-quality Russian cheese in Moscow supermarkets can be higher than the price tag for quality meat. The attempt to replace the habitual variety of European cheeses has, so far, not quite succeeded. The only cheese which producers have quite successfully adopted is mozzarella, because its production technology is similar to that used in the production of traditional Russian cheese suluguni (slightly salty type of cheese).
Domestic production is not enough. Last year, the share of Russian milk in percentage volume of total sales was 78.3%. Domestic production is growing slowly because of high credit costs and other factors. Despite the opportunities for import substitution that opened before Russian producers, last year milk production grew by only 0.1%, according to the official data of the Russian Ministry of Agriculture. This year, the growth rate has increased, but not significantly. In January, the growth rate increased by 4.3% compared to the same period in 2014 and, in February, by 4%. In January, Tatarstan, Krasnodar and Moscow regions became leaders among the Russian milk-producing regions.
This resulted in an absurd situation. Very high prices reduce the demand, already stalled due to recent events. According to the National Union of Milk Producers, dairy consumption in Russia is falling.
Nevertheless, there is a niche for the Indian suppliers in this area, Maria Zhebit is convinced. She is the representative of the National Union of Milk Producers "Soyuzmoloko."
"Over the past few years, the industry in Russia has entered a crisis, livestock capita has reduced and production decreased. All this has led to the shortage of raw materials. That is why there is a niche for the Indian suppliers, who have not been affected by the (Russian) embargo," she told RIR.
Since the ban on imports of dairy products from the EU and other countries was introduced, suppliers have managed to establish relationships with alternative producers, from Switzerland, Latin America, Serbia, Zhebit said.
If Indian companies also seek to capture the Russian market, they will have to consider a number of its characteristic features. First, the share of fluid milk, (known as toned milk in India) produced from dry milk, is insignificant in Russia. According to prevailing regulations, such milk should be labelled as "Restored from dry milk".
For cultural reasons such milk is not popular, therefore manufacturers do not use it. "Pasteurized and ultra-pasteurized milk is most often sold in Russia," - Zhebit said.
In addition, when working in Russia, it is always necessary to consider the specific nature of the market; administrative barriers, unstable, constantly changing regulations, high volatility of prices during the year and foreign risks. "The problem of entering the trading chains may arise only if India plans to export readymade goods and work with the trade enterprises directly," Zhebit said.
All rights reserved by Rossiyskaya Gazeta.