Parag to have a 'Go' at Russian dairy market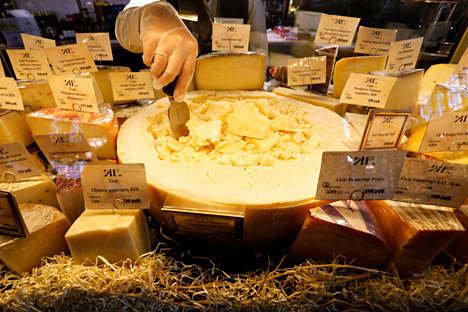 With opening of Indian dairy products imports into Russia, there is a big prospect for business. Source: Reuters
Parag Milk Foods Pvt Ltd, makers of the "Go" brand of milk products, is looking to raise cheese exports and enter the Russian dairy products market. Claiming to have India's largest cheese-making capacity, Devendra Shah, chairman of the company, told Hindu Business Line Newspaper he could enhance capacity to cope with enhanced exports.
Parag Milk Foods Pvt Ltd, makers of the "Go" brand of milk products, is looking to enter the Russian dairy products market and is ready to increase its cheese making capacity to cater to the exports, Devendra Shah, the company's chairman told the Hindu Business Line Newspaper.
"We have India's largest cheese making capacity, of 40 tonnes per day. The Russian demand is huge and, with opening of Indian dairy products imports into Russia, there is a big prospect for business," he said.
According to Shah, Parag Milk Foods "is looking at the annual cheese consumption of about 2-2.5 lakh (lakh=one hundred thousand) tonnes per annum in Russia and may consider increasing cheese production capacity from the present 40 tonnes per day to about 100 tonnes per day".
The Federal Service for Veterinary and Phytosanitary Surveillance of Russia (Rosselkhoznadzor) allowed the imports of Indian buffalo meat to Russia on December 4, 2014, and included four Indian companies in the register of organizations and individuals engaged in production, processing and / or / storage of controlled goods imported into the customs territory of the Customs Union / TC.
After that, Rosselkhoznadzor also conducted a series of audits of local dairy producers, but none of the companies received permission to export to Russia.
A source informed RIR that Parag Milk Foods, as well as Schreiber Dynamix Dairies received some insignificant remarks.
"If the company meets the requirements, it will be able to get permission to deliver its products to Russia," the source said. "One of the main requirements was that the company received milk from farms with livestock of at least a thousand cows".
Earlier, India's commerce secretary Rajeev Kher, in an interview to TASS Russian News Agency expressed hope that "the Indian companies would be able to get the first permit for the supply of dairy products in Russia within a month."
Among 10 other companies which are eyeing the Russian dairy products market is Amul. In January this year, the Gujarat Cooperative Milk Marketing Federation (GCMMF), the makers of the Amul brand of dairy products, said that after the necessary regulatory approvals are in place, it could take two to three months to start their exports to Russia.
All rights reserved by Rossiyskaya Gazeta.