Indian Navy testing submarine equipped with Russian missile system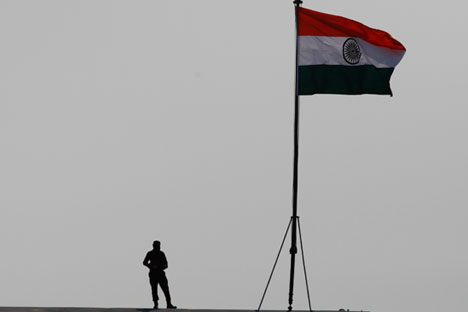 Modernization turned out to be a more complex process than the construction of a new submarine. Source: AP
The Indian Navy has begun testing a modernised and refitted diesel – electric submarine, the Sindhukirti, which is equipped with the Russian-made Club-S missile strike system. This is the sixth 'Kilo' class submarine to be refitted and modernised in collaboration with Russia.
The Indian Navy has started testing a modernised and refitted diesel-electric submarine, the Sindhukirti, in the open seas, N.K. Mishra, head of the Hindustan Shipyard Limited (HSL), told reporters on Friday.
The modernization began in 2006, and took nine years to complete. During this time, the Ushus sonar system, manufactured in India, was installed on the submarine, along with more than 10 other systems of both domestic and foreign manufacture. 100 kms of cables and 30 kms of high-pressure air pipes were replaced during the refit.
"Modernization turned out to be a more complex process than the construction of a new submarine," the newspaper The Hindu quoted Mishra as saying, on its website. "This was the largest project ever implemented in an Indian shipyard."
A TASS news agency source close to the Indian Ministry of Defence refused to comment on the progress of the tests, but said in the course of modernization, the Sindhukirti also acquired the Russian-made Club-S missile strike system (export version of the Calibre-C missile system), with a range of up to 200 km.
The source added that the Russian Star Ship-Repair Centre "also participated in the refit and modernization of the submarine", which took place in the city of Visakhapatnam. The company has modernized six submarines for the Indian Navy since 1997, at its own berths in Severodvinsk. These were the Sindhughosh, Sindhuvir, Sindhuratna, Sindhuvijay, and Sindhurakshak, before the Sindhukirti.
All these are Russian-built submarines of the 887 EKM project (NATO classification, "Kilo"), developed by the Rubin Central Design Bureau for Marine Engineering (St. Petersburg). They are designed to fight enemy ships and submarines, and to defend naval bases, onshore and offshore communications, reconnaissance, and patrol activities.
These submarines have a displacement of 2,300 tons, their length is 72.6 m, submerged speed is 19 knots (about 35 km) per hour, diving depth around 300 meters, can carry a crew of 52 people, and has a cruising capacity of 45 days.
First published in Russian by TASS.
All rights reserved by Rossiyskaya Gazeta.