Indo-Russian nuclear venture to help farmers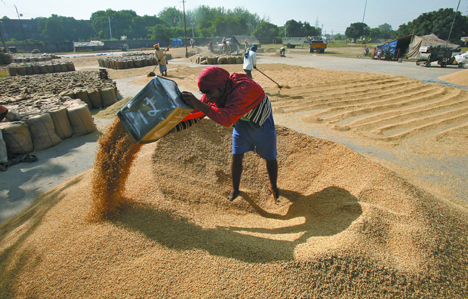 Experts have found out that the isotope processing of agricultural produce significantly increases yields and protects it from destruction. Source: Reuters
Rosatom and Hindustan Agro have forged joint venture for storage of agricultural products.
Russian state nuclear corporation Rosatom and Hindustan Agro have established a joint enterprise for the production and storage of agricultural products irradiated by isotopes: vegetables, fruits, cereals, and legumes. Radiation technologies will help save crops even during periods of draught.
The two sides have invested around Rs 40-45 billion rupees (approximately $700 million) in this joint venture. The companies plan to open 25 factories for the irradiation of food products with low doses of cobalt-60 over the next five years.
It is planned to locate refrigeration capacity in India, Mauritius, the Near East, and Malaysia.
According to Anil Kakodkar, the former head of the Atomic Energy Commission of India, isotope production essentially increases the shelf life of perishable food products, which makes it possible for farmers to enhance their presence in the market and balance out prices. "Such technologies are especially needed in Indian horticulture where there are serious price spikes," he said.
Experts have found out that the isotope processing of agricultural produce significantly increases yields and protects it from destruction. Isotope sterilisation technology has been used all over the world for dozens of years. Irradiated objects, including produce, do not become radioactive and they can be used immediately after the process.
Usually, products that are grown are irradiated by isotope sources; for example, grains, spices, dried herbs, potatoes, and other root vegetables. After such treatment, the products can be stored for a very long time and do not spoil. At one time in Uruguay there were tests on isotope processing for potatoes that showed successful results. As an example, the installation for the radiation processing of products in local conditions is cost-effective if it processes 25,000 tonnes of potatoes and 5,000 tonnes of garlic per year. In Italy, industrial installations have long been in operation for irradiating potatoes and garlic. Russian nuclear specialists supply isotope products for such installations for international clients, including in the US, Europe, and Latin America.
"Produce and, above all, herbs simply must be processed because when they are collected, dried, and packed, the fact that dangerous bacteria or fungi can affect them is colossal," says Alexei Chasovskikh, the head of the laboratory of the division of radiation technologies and equipment of NIITFA.
In 2009, a project began in Russia to irradiate grain seeds with gamma rays. During the course of the experiment, 120 tonnes of seed material was irradiated, which after being planted yielded 20 per cent more than conventional seeds, and this is not even the limit.
"This method, long applied in developing countries, can ensure a rich harvest even during abnormal draught," says Aleksandr Uvarov, an independent expert. The expert also points out that that technology is absolutely safe, as it is approved by the World Health Organisation, the International Atomic nergy Agency, and the UNFAO.
Power of isotopes
Isotope sterilisation technologies have been used for decades, not only in Russia, but also in another 40 countries. The Russian nuclear sector supplies international customers with isotope products that are used in such equipment. Russia also exports medical isotopes that are used for the early diagnosis of diseases in 30 countries, including the USA, Great Britain, Australia, China, South Africa, and Brazil. At the same time, it should be noted that competition in this market is quite strong – as many developed countries also have isotope production sectors. Gamma rays help not only to preserve food, but also ancient books and archival documents.
All rights reserved by Rossiyskaya Gazeta.