At OPEC meet, India and Russia seek to expand energy cooperation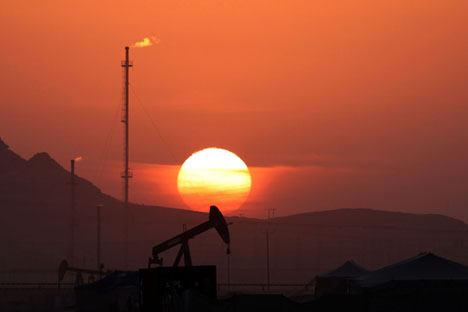 India has expressed interest in importing LNG and crude oil from Russia. Source: AP
India and Russia intend to expand their energy cooperation, with New Delhi seeking to import oil and LNG from Russia. India's energy minister Dharmendra Pradhan met with his Russian counterpart Alexander Novak at the OPEC meet in Vienna, and discussed ways to expand cooperation, including building oil and gas pipelines.
Seeking to secure availability of energy for its development, India has sought import of oil and LNG from Russia, Dharmendra Pradhan, India's Minister of Petroleum said after a meeting with Alexander Novak, Russian Energy Minister, and colleagues from other countries at the OPEC International meeting in Vienna last week.
"During the meeting between (MoS) Pradhan and (Minister) Novak, the ministers agreed to expand bilateral cooperation in the energy field. They decided to conduct a joint-investigation in the near future, to study the possibility of building oil and gas pipelines from Russia to India. India has expressed interest in importing LNG and crude oil from Russia," a press release issued after the meeting stated.
India and Russia also reviewed current Indian investment projects in Russia, and discussed the possibility of collaboration in the exploration and production spheres, the press release said.
On the sidelines of the OPEC Ministerial meeting, India's Energy Minister also separately met with Prince Abdulaziz bin Salman, Deputy Oil Minister of Saudi Arabia. During the meeting, Pradhan confirmed the need to intensify bilateral energy obligations between India and Saudi Arabia, moving from the "buyer-seller" relationship, to an "energy partnership". India and Saudi Arabia agreed to explore and identify concrete areas of cooperation between the two countries in the field of energy, the press release said.
During his meeting with Iranian Oil Minister Bijan Zangeneh, Pradhan discussed opportunities for Indian participation in projects involving exploration and production of oil in Iran, and the possibility of building a gas pipeline from Iran to India.
The two-day long OPEC international meeting, which ended on Friday, takes place every two years. Energy ministers of various countries and heads of major oil companies attend the crucial meeting. Novak was Russia's delegate at the Vienna meeting.
First published in Russian by RIA Novosti.
All rights reserved by Rossiyskaya Gazeta.