Sharp decline among Russians travelling abroad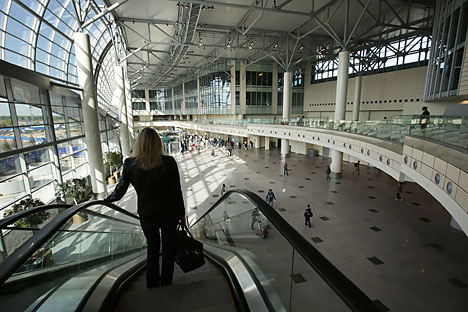 The interest in the European direction is unlikely to weaken. Source: Marina Lystseva/TASS
There has been a sharp decline in the number of Russians travelling abroad in the first quarter of 2015, with vacationers making 1.3 million fewer trips (around 40% less) abroad, official statistics show. The drop in the Russian ruble's value against foreign currencies is a reason, making Russians look increasingly at domestic holiday options.
Around 40% fewer Russians travelled abroad on vacation in the first quarter of 2015, making 1.3 million less trips outside the country, official statistics revealed, reports TASS.
According to Rosstat, Russia's official statistics agency, places traditionally popular among Russian tourists; like Spain, Italy, Greece, and Egypt; lost 41%, 31%, 29% and 25% of travellers, respectively. Visits by Russians to Montenegro and Croatia, however, dropped only by 8% and 3%, respectively.
Other sources, particularly the European Travel Commission, also show that outbound tourism from Russia to Europe in the first quarter of 2015 has fallen by 30%, compared to the same period last year.
The main reasons
From the perspective of the tourism business, a decline in outbound tourist traffic reflects the situation on the financial markets. As the Rosstat data indicates, in April 2015, real wages of Russians, in annual terms, decreased by 13.2%, while marginally increasing by only 1%. Rising prices of goods and services have reduced the proportion of income allocated to consumption to its lowest level since the beginning of 2014 – 66.8%. The share of income now allocated to savings, by contrast, has grown by 17.4%.
"From the December highs against the US dollar, the Russian ruble has dropped by almost 38%, and against the euro, by almost 43%. The Russian currency still remains rather weak, in relation to the levels of the preceding year," said Timur Nigmatulin, analyst at Finam Investment Holding. Among other things, this has meant an automatic and significant increase in the cost of holidays and business trips abroad, in ruble terms. According to the Russian Federal Tourism Agency, which collates relevant information about Russians travelling abroad, earlier, tourists travelling to other countries spent around $50 billion in the countries they visited.
"We need to make every possible effort to ensure a significant portion of these funds remain in the Russian Federation, and are put to work for the economy of our country," said Oleg Safronov, head of the Federal Tourism Agency, during a meeting with Vladimir Putin earlier this month.
This strategy has already brought positive first results.
Plans for the future
According to Federal Tourism Agency figures, over 41 million people travelled within the country on vacation in 2014, around 30% more than in 2013.
"We are seeing a new trend, changes in the character of the tourist stream. Businesses have noted a doubling in the number of tourists travelling to ski resorts inside Russia," said Galina Dekhtyar, Professor in the Institute of Management at RANEPA. According to her, in May 2015, the "destination winners" were Egypt and Turkey, even though the flow of tourists to these two countries has also sharply decreased. She also noted that Krasnodar Krai, Sochi, and Crimea have become priority destinations for domestic tourism.
According to analysts, however, the interest in the European direction is unlikely to weaken.
"If we talk about Europe, with its large number of historical and cultural monuments, it will always remain interesting for Russian tourists," said Dekhtyar. However, she felt that the Russian desire to travel around Europe today has been dampened by the political situation, a negative attitude towards Russian tourists in several countries, as well as the weak ruble.
"Thanks to policies of the European Central Bank, the ruble has weakened against the euro to a lesser extent than against other currencies. I expect to see a drop in tourist traffic to the Eurozone of only 10-20% in 2015," said Nigmatulin.
All rights reserved by Rossiyskaya Gazeta.