Far East preparing for investors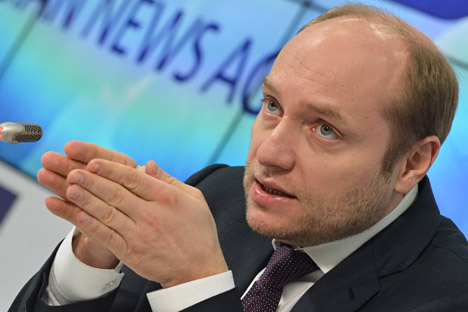 Alexander Galushka, Minister for Far East Development. Source: Yuri Mashkov/TASS
Preferential area development business zones are being set up in Russia's Far East region particularly to attract Asian partners, said Alexander Galushka, Minister of Far East development. He outlined new measures and expects them to make the region both attractive and profitable.
The Ministry of Far East Development has prepared a special roadmap. which lists out all the key projects associated with the development of the region.
"These are significant investment projects that have state support and the advanced social-economic development of territories (ADTs). Nine of them have already been approved at the government level. Detailed economic calculations were done for each of the nine ADT zones," Alexander Galushka, Minister for Far East Development, said. All the projected estimates were very conservative and the effect was likely to be greater, he said.
"The first investors (we call them "anchor investors"), will occupy only part of the ADTs; around 25-30 percent. Our next goal is to occupy the remaining area with new manufacturers," he said. "Anchor residents" will occupy 210 hectares. Another 597 hectares is land kept for new investors and new businesses." Galushka is confident these territories will be in demand among investors.
There are businessmen who are ready to start work and there are those who are merely interested, and will come only after they see the first results.
Local legislation
To enable work on the territories, special government decrees are being prepared.
"As a result, three government regulations on the approval of the first three ADTs were adopted; in Khabarovsk area ("Khabarovsk" and "Komsomolsk") and in Primorsky Krai ("Nadezhdinskaya")," Galushka said. "These documents are precedent-setting. And once they are signed, Russia will get three first legal ADTs and, consequently, a legal framework for their financing from the state budget. Six more ADTs that we have already pre-selected, will undergo a similar procedure and receive a legal status," he said.
"In accordance with the law, in the first three years, ADTs can only be created in the Far East," he said.
Russian authorities are counting on attracting Asian financing.
"Recently, we held talks with South Korean banks in Seoul, and continue working with them today," the Minister said. "Very attractive conditions are offered for financing projects in the Far East, which will be implemented both by Korean and joint Russian-Korean companies. The same situation is developing with Chinese partners," he said.
Where to get people
One of the major problems that hinder the development of the region is its sparse population. In the Far East, only 6.4 million people live on the 6169.3 thousand sq. km of land. To resolve this issue, Galushka plans to set up an agency for the development of human capital.
"We are short of people. And obviously, it is this shortage that will become one of the limiting factors that will manifest itself not in the medium but in the long term," explained Galushka. "A special human resources map is being prepared. It will display where and what experts there are in Russia and what they cost in the labour market. Note that in 2014 the exodus has reduced by more than 25 percent. In addition, the birth rate has increased," he said.
There are plans to attract people by allocating 1 hectare of free land to settler. The programme is scheduled to take off in 2016.
Galushka said development of the Far East was being given close attention and efforts to avoid errors were being ensured.
"Not being afraid of mistakes doesn't equal the desire to make them. It does not mean working rough and clumsy when creating from scratch something new and off-standard," he said. "At the same time, we must understand that in a constantly changing environment the new forms, methods of implementation of our large and complex project will be evolving. We must be ready to adapt quickly, to act thoughtfully, carefully and reasonably. If the method proves wrong, we should not be afraid to admit it, and make timely adjustments," Galushka said.
First published in Russian by Rossiyskaya Gazeta.
All rights reserved by Rossiyskaya Gazeta.