India to be partner for Innoprom-2016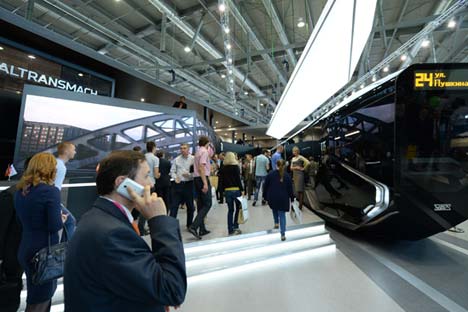 The inter-state format of 'Innoprom' is expected to deepen trade, industrial, and human ties. Source: Pavel Lysitsyn/RIA Novosti
India will be the partner country at next year's 'Innoprom' exhibition, Russia's largest industrial exhibition, held at Yekaterinburg. China is the partner country in 2015, and Chinese President Xi Jinping is likely to be present for the inauguration, along with President Vladimir Putin.
India has accepted an invitation to be a partner at the Innoprom Industrial Exhibition, to be held in Yekaterinburg July 2016. Denis Manturov, Russian Minister of Industry and Trade had extended the invitation at a meeting with the Federation of Indian Chambers of Commerce and Industry (FICCI) last December. India agreed to participate in the exhibition during a meeting at the SPIEF, a release from the Indian Ministry for Commerce and Industry said.
China, with the largest ever delegation, is the partner country for this year's Innoprom, Russia's largest international industrial exhibition, to be held in Yekaterinburg from July 8 to 11.
Leaders of both countries are likely to visit the exhibition. In May 2014 in Shanghai, Chinese and Russian leaders agreed that China would participate in the Innoprom-2015 as an official partner. Presidents Vladimir Putin and Xi Jinping are expected to jointly inaugurate the exhibition.
Taking on a partner country for 'Innoprom', informally called the "Russian Hanover", is happening for the first time in its six-year history.
Traditionally, hundreds of companies from dozens of countries, interested in cooperation with Russia, bring their products to this exhibition.
More than 1,000 businesses, over 150 enterprises, from seven industrial provinces, and 30 large companies from China will come for Innoprom 2015, under the auspices of the International Union of Commercial Associations (comprising over 2,500 Chinese enterprises). The Chinese delegation will also include representatives from the Ministries of Foreign Affairs, Commerce, Science and Technology, Industry and Information, and China's Customs department and the China Council for Promotion of International Trade (CCPIT). According to Tian Yongxiang, Chinese Consul-General in Yekaterinburg, this is the first time such a large Chinese business delegation is coming to Russia.
Chinese exhibition stands will occupy 7,500 square meters of space, and will be divided into several areas; fashion, high-tech, regional governments and industry-specific themes, including high-speed railways, shipbuilding, electronics, mechanical engineering, nuclear energy, aviation and telecommunications.
The inter-state format of 'Innoprom' is expected to deepen trade, industrial, and human ties. An extensive B2B exchange of contacts is being prepared, visits to individual enterprises have been scheduled, and the Governor of the Middle Urals plans to hold talks with heads of Heilongjiang and Guangdong Provinces.
"Within the framework of the Innoprom, we would like to find common ground and establish cooperative ties in the high technology sphere. This would not create competition with each other but, by working together, we would come up with comprehensive solutions to the markets of Russia and China, and possibly even third countries," said Andrey Sobolev, Minister of Foreign Economic Relations of Sverdlovsk Oblast. He said during the exhibition, they would also discuss the participation of countries in the Eurasian Economic Union in the "Silk Road" Economic Zone Project, with a separate block being devoted to cooperation in the science, technology, and education.
"Together with China, we are trying to eliminate the information gap about legal aspects of doing business in Russia, licensing of products, and participation in joint ventures. A list of about ten priority projects in engineering, pharmacy, and pharmacology areas has been prepared, for which we started to select qualified Chinese partners," said Sobolev.
All rights reserved by Rossiyskaya Gazeta.