Russia eyes major role in China-led AIIB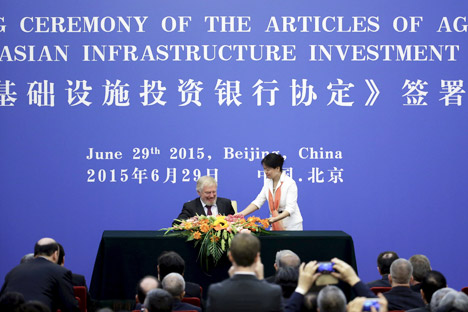 The AIIB articles of association signing ceremony in Beijing. Source: Reuters
Russia is the third largest shareholder in the China-led Asian Infrastructure Investment Bank. The bank's articles of association were signed by 50 countries at a ceremony in Beijing.
Russia will have a major role in the Asian Infrastructure Investment Bank (AIIB), Russia's Ambassador to China Andrey Denisov told RIA Novosti ahead of a ceremony that officially launched the China-led bank. Russia would qualify for "an appropriate voting share and a relevant share in the bank's management," Denisov told the news agency. He added that qualified Russian personnel were ready to work in important positions in the bank.
Moscow has denied that the AIIB's role would overlap that of the New Development Bank, a bank being setup by the BRICS countries, which will also have its headquarters in China.
Russia, which has a 6.66 percent ownership stake in the bank, is the AIIB's third largest shareholder. China holds a 30.34 percent share while India has an 8.52 percent share in the bank that is expected to rival the World Bank and the Asian Development Bank.
The voting shares of China, India and Russia are calculated at 26.06 percent, 7.5 percent and 5.92 percent respectively, according to Xinhua news.
On Monday, June 29, at a ceremony in the Great Hall of the People in Beijing, representatives of 50 founding member countries signed the articles of association of the AIIB. Another seven countries are expected to sign the articles by the end of the year.
The bank will have a share capital of $100 billion, with $20 billion paid in initially. Although China is the largest stakeholder, it will not hold the right of a veto in the bank's decision-making process. Germany is the largest shareholder outside of Asia with 4.5 percent, followed by France with 3.4 percent and Brazil on 3.2 percent.
The only major economies not participating in the bank are the United States and Japan. The U.S. has been unsuccessful in persuading its allies to not join the bank over concerns about the bank's ability to meet international governance and transparency standards, according to various media reports. The United Kingdom, France and Australia are among the 57 founding members of the bank.
The article is abridged. Read the full version at Asia.RBTH.com.
All rights reserved by Rossiyskaya Gazeta.