Levels of 'Russian-ness' to be defined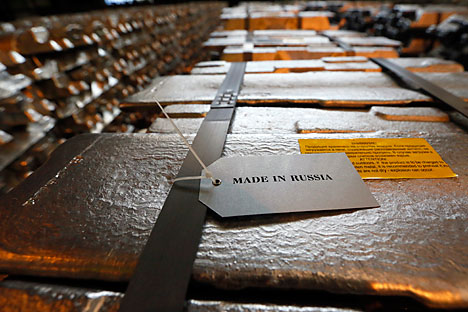 Aluminium ingots with the sign "Made in Russia" are stored at the foundry shop of the Rusal Krasnoyarsk aluminium smelter in the Siberian city of Krasnoyarsk. Source: Ilya Naymushin / Reuters
What constitutes a domestic product in Russia will soon by defined by clear guidelines. New regulations will define the level of localization required for a product to be defined as a domestic product in the Russian market. Foreign companies which meet the required level of localisation will be eligible for get tax exemptions and so on.
The Russian Ministry of Industry and Trade has formulated guidelines to determine levels of localisation needed for domestic manufactures of products. Every industry will have its individual indicators.
The new rules have been determined for eight industries; medical equipment, pharmaceuticals, electronics and microelectronics, machine tools, automobiles, special engineering, photonics and lighting technology, as well as for the electrical tools and power industry.
"At the moment, a significant part of these products is purchased abroad," said Anton Chernyshov, an analyst at Gazprombank. Chernyshov said import of electronics and electrical engineering equipment totalled $15.8 billion in 2014, while medical equipment imports cost the exchequer $3.9 billion.
Levels of localization
The Ministry's proposal stipulates that the percentage of foreign materials and components in pricing the final product should be 50 percent or less. For some products, the percentage of foreign materials could be as low as 18 percent.
Ultrasound machines, for example, can be assembled, adjusted and packaged in Russia. There are plans to make production of tomographic scanners significantly more localized. The mandatory requirement will be local production of four kinds of components, and testing and calibration.
However, the plan for the production of drugs is to have them almost entirely locally made. This would include the production of both the substance and the dosage form: tablets, solutions, and syrups. The same will apply to bank cards, SIM cards and integrated circuits.
"The new demands of the level of localization of production indeed could stimulate foreign manufacturers to open production facilities in Russia and, in theory, could lead to an increase in the inflow of foreign capital into the economy," says Kira Yukhtenko, an analyst with FBS brokerage company.
However, Yukhtenko added that continuing political tension is not conducive to improving the overall business climate.
"The main motivation for foreign companies to enter the Russian market today is a cheap labor force and the high level of education," says Chernyshov. He says that the average wage in Russia today is on par with that of the urban population in China – about $700 a month after taxes.
The benefits of localization for foreign companies
The Ministry of Trade and Industry's press service told RIR that the products of foreign companies would be considered "Russian" if such companies localize their production in accordance with the new requirements.
"These products will be able to participate in public procurement," the press service said. The volume of transactions in the public procurement market in Russia is very large, amounting to 23.8 trillion rubles in 2014 ($428.7 billion), up 18 percent over the previous year (according to RBC's data, which includes $318 billion in purchases by state-owned companies – Ed.)
"Large amounts of public procurement create a guaranteed demand, especially for niche products," Yukhtenko notes.
The expert specifies the market for medical products as potentially the most attractive for manufacturers. The volume of this market exceeded 200 billion rubles ($ 3.6 billion) in 2014, with 70 percent of the demand provided by state procurement.
"Over the next five years we could see a sharp increase in the share of Asian investors, especially from China," Yukhtenko said. "To a large extent, this will affect the financial, medical, construction and raw materials sectors."
All rights reserved by Rossiyskaya Gazeta.