MTAL can rival global giants like Airbus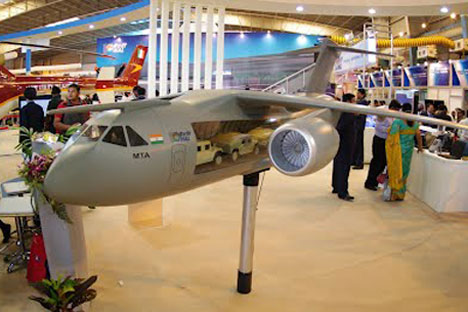 The Multirole Transport Aircraft (MTA). Source: Vijainder K Thakur
BrahMos and MTAL are the only two joint Indo-Russian companies with equal joint shareholdings. The joint venture MTAL could rival global giants like Airbus as a leading aircraft manufacturer, if it functions according to its full potential.
The joint Russian and Indian company Multi-role Transport Aircraft Ltd (MTAL), currently developing a multi-purpose transport aircraft (MTA), has the potential to become a major aircraft manufacturing company like Airbus, said Vladimir Belyakov, Director for Overseas Economic Activities of OJSC Ilyushin Aviation Complex.
"According to the agreement, both sides have the right to use all of the technology created within the framework of the project. The developer is the Russian-Indian company Multi-role Transport Aircraft Ltd (MTAL), and it will possess full rights. I do not exclude the possibility that in the future, it can grow into a strong Russian-Indian aircraft manufacturing enterprise, similar to Airbus, that will develop and create a broad spectrum of aviation technology," the "Il" (Ilyushin) press service quoted V. Belyakov as saying.
The defence ministries, governments, and legislative bodies of both countries were involved in creating the MTA, Belyakov said.
"Till today, in the defence manufacturing industry in India, only in the joint enterprises BrahMos and MTAL do the Indian and Russian shareholders have equal stakes in the capital of the companies – 50% each. This privilege brings great responsibility. Indian legislation (the company is registered in Bangalore) does not restrict companies created to one product," said Belyakov.

In Belyakov's opinion, "it makes sense to expand the product range," for overseas exports and sales, after obtaining joint work experience from fixing the required parameters into the aircraft, to organizing serial production and logistics of supplying components to organising their assembly.
"A large joint aviation company could emerge out of MTAL. What sort of product will be designed and built next by the company depends on how quickly we move forward with the first product, an MTA plane. There are already proposals," said Belyakov.
According to documents, MTA is classified as a medium military transport airplane handling the transport of a broad range of cargo weighing 20 tons, for a distance of over two thousand kilometres with dirt or paved runways.

The possibility of using the aircraft in high altitude (mountain) airports in different geographical or climatic conditions, day or night, in easy or adverse weather conditions is also being reviewed. As a military-transport aircraft, the MTA is designed to transport and para-drop personnel, cargoes, and technology on landing pads, and to drop off cargo without parachutes from low altitudes.

In accordance with the decisions taken by the shareholders from the Russian side to establish the joint venture, UAC – Transport Aircraft (a subsidiary of UAC, formerly called the Ilyushin Intergovernmental Aircraft Company) and Rosoboronexport exist, reports RIA Novosti.
First published in Russian in Arms-Expo.
All rights reserved by Rossiyskaya Gazeta.