Russia offers India a super submarine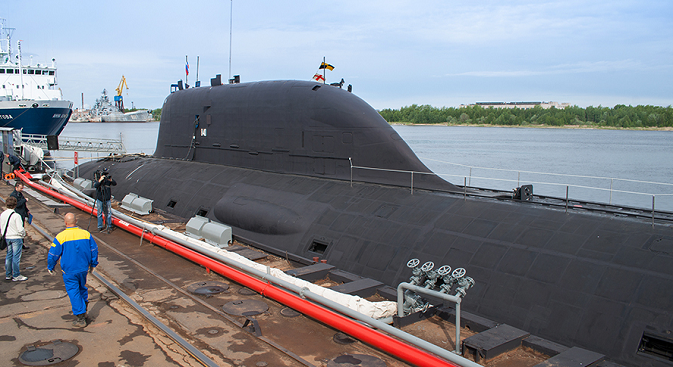 The Yasen class submarine is equipped with eight vertical missile silos, four 650 mm torpedo tubes and four 533 mm torpedo tubes. Source: mil.ru
Russia could offer to build its latest nuclear submarine, possibly the multi-purpose 'Yasen' class sub suitably modified for India, analyst Zachary Keck wrote in an article for The National Interest.
A modified 'Yasen' class submarine, Russia's latest nuclear sub, could be built specially for India, a report in the Indian 'Economic Times' newspaper suggested. The ET was quoting the analyst Zachary Keck who, in an article in 'The National Interest,' said it was possible that the new submarine would be one of the multi-purpose 'Yasen' class submarines, equipped with cruise missiles, or a modification of the Yasen.
According to Keck, the ET report states, India has been interested in leasing a multi-purpose attack submarine for quite a long while. This time, the Russian government has taken this interest on board and is developing a separate submarine for India.
"The final details are yet to be discussed, but at present it has been practically decided that a completely new submarine will be built", the ET quotes Keck as saying, while citing an anonymous source familiar with details of the project.
According to the article's author, the 'Yasen' class submarine, if decided upon, will be a significant addition to India's reduced submarine fleet.
"The Yasen class submarine is one of the most promising in the world. According to information available, the submarine crew comprises 90 people, and is designed to have a high degree of automation. Equipped with a new generation atomic reactor, the submarine can reach a maximum speed of 40 knots and, in silent mode, is capable of 20 knots", said Kyle Mizokami in an interview with Keck.
The Yasen class submarine is equipped with eight vertical missile silos, four 650 mm torpedo tubes and four 533 mm torpedo tubes. The Yasen is also likely to be armed with the high speed underwater 'Shkval' torpedo, which has a radius of seven to thirteen km and a speed of up to 200 knots.
First published in Russian by RIA Novosti.
All rights reserved by Rossiyskaya Gazeta.