Russia and India to jointly build nuclear power plants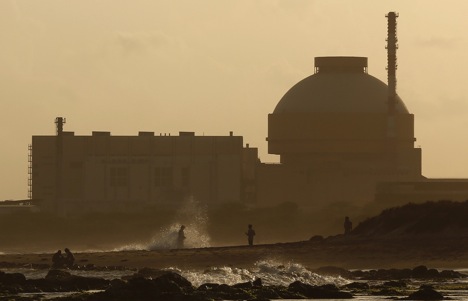 Russia has also offered to build over 20 nuclear power units in India, up from the 12 offered earlier. Source: Reuters
An Indian newspaper has reported that Russia has offered to build nuclear power plants with India in other countries. This cooperation in the atomic energy sector will even extend to cooperation in areas like the joint extraction of natural uranium, the production of nuclear fuel and elimination of nuclear waste.
Russia has proposed a plan to involve India in building Russian-designed nuclear power plants in third countries, the Indian Express reported.
According to the newspaper, the cooperation is to be extended also to the area of joint extraction of natural uranium and the production of nuclear fuel and atomic waste elimination.
"Russia has also offered to build over 20 nuclear power units in India, up from the 12 offered earlier", the Indian Express added. It also quotes a high-level source, saying that Moscow saw it as "long-term, mutually beneficial cooperation" in the nuclear sector.
A government source of RIR has confirmed that such negotiations have taken place, and added that this could lead to "joint construction of power stations and other aspects of cooperation, including the training of personnel in other Asian countries, including Bangladesh, Vietnam, and Sri Lanka".
"This, in particular, is due to logistical issues. New Delhi is much closer to these countries than is Moscow. Moreover, our Indian partners are ready to train their Asian colleagues," he said.
In addition, RIR's source added that "Russia and India, in fact, have reiterated their commitment to cooperation in this field."
"Cooperation in the field of nuclear energy was one of the main topics in the talks between the Indian Prime Minister Narendra Modi and the Russian President in Ufa (at the BRICS Summit – note by RIR). Emphasis was placed on the future construction of facilities in India, with a possible increase in the number of units."
Today Russia remains the only country that is really cooperating with India in the field of nuclear energy. Earlier, in the southern Indian state of Tamil Nadu, the first unit of the Kudankulam NPP, built with Russian assistance, was put into commercial operation. The second unit has already been constructed and is now in the hot running stage; the final testing before loading of the nuclear fuel.
Construction work on the third and fourth units of Kudankulam NPP should start in 2016. These are planned to be commissioned in the years 2020-2021.
During his visit to New Delhi on December 11, 2014, President Vladimir Putin signed a document defining plans for Russia to assist in building at least 12 nuclear power units in India.
All rights reserved by Rossiyskaya Gazeta.