How Russia is trying to replace crude oil exports with petroleum products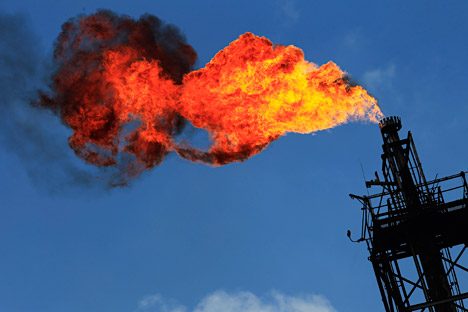 After the devaluation of the ruble in the second half of 2014, oil companies, in general, reduced their oil refining activities in the country. Source: Reuters
Analysts say the development of oil refining projects has become more difficult in Russia after Western sanctions were imposed, since these projects were previously being financed with Western loans.
The largest Russian oil companies have decided to increase investments in petroleum refining, thereby reducing the share of crude oil in their total exports.
Gazprom Oil, a subsidiary of Gazprom will spend set up a reagents production facility at its Omsk refinery within the next four years. A Gazprom representative told RIR that this involves the creation of a new production facility for refining some of the world's best petroleum-based catalysts.
Tatneft, another major Russian oil company, is planning to finish building a new oil refinery complex and increase its processing capacity from 8.5 million to 14 million tons of oil by 2018, according to Kommersant. According to Dmitry Baranov, leading expert at the MC Finam Management, the development of the petrochemical industry will allow enterprises to manufacture products with high added value, which will improve the economic performance of companies.
Main problems
According to Alexander Kornilov, senior analyst at the Alfa-Bank, after the devaluation of the ruble in the second half of 2014, oil companies, in general, reduced their oil refining activities in the country, while increasing exports of crude oil. According to the analyst, the only exception to this general rule is the largest Russian oil company, Rosneft, which has kept its refining volumes at previous levels. The sanctions, according to the director of VNIPIneft Vladislav Kapustin, had a negative impact on the development of oil refining in Russia, as foreign investors stopped allocating credit resources to Russian companies. According to the analyst, this industry received 290 billion rubles ($5.09 billion) in investments in 2014.
According to Russia's official statistics agency, Rosstat, in 2014, Russia saw a 5.9 percent increase in the production of petroleum products, in comparison to the preceding year. In particular, the production of diesel fuel grew by 7.6 percent, motor fuel by 33.9 percent, and kerosene by 7.6 percent. However, Russian companies reduced their production of gasoline for cars by 1.13 percent. Moreover, the chemical industry saw no reduction in terms of the volume of products manufactured, registering an increase of 0.1 percent for the year.
Government strategy
"Activity in this industrial sector continues to shrink due to the influence of sanctions and the halt to cooperation with partner countries, and due to reduced consumer demand in Russia," says a study conducted by the Forex Club GC, a business consultancy firm. "The coke-chemical and refined petroleum sector is maintaining its levels thanks to orientation towards the domestic market."
According to Dmitry Baranov, a major factor in determining the development of the petrochemical industry in Russia is the much lower level of consumption of petrochemical products in this country, in comparison with other countries. For example, the per capita consumption of ethylene in Russia is about three times lower than in Western Europe. Then there is the production of benzene, in Europe they produce about 20 kg per person, while in Russia this indicator is less than 7 kg.
According to the strategy set by the government, the production of chemical and petrochemical products in Russia is expected to increase 1.6 times in 2015, in comparison to 2005. Moreover, by 2030, the proportion of processed hydrocarbons is expected to grow from 35 percent to 55 percent. "It is these figures that provide the orientation benchmarks for Russian oil and petrochemical companies in the medium and long term perspective, setting the pace of development, and determining their production plans," Baranov added.
All rights reserved by Rossiyskaya Gazeta.