Innoprom: 5 Russian eye-catching inventions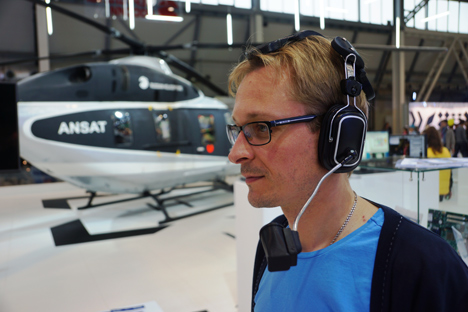 Brain-computer interface. Source: Darya Kezina
RIR looks at the top Russian inventions showcased at this year's edition of the annual Innoprom exhibition.
More than 600 companies from 70 countries and 59 Russian regions took part in the 6th Innoprom International Industry Trade Fair in Yekaterinburg on July 8-11. RIR looks at a few of the latest Russian inventions showcased at the exhibition. Many of these innovations were developed with the recently adapted import substitution policy in mind.
Brain-computer interface
Russia's Bruk Electronic Control Machines Institute collaborating with scientists from Lomonosov Moscow State University have created a neural interface that permits anyone to control electronic and electromechanical devices using the "power of thought."
A special system of brain-computer sensors transforms the intentions of the controller, detected by reading brain signals, into control instructions with an accuracy rate of 99.5 percent. The device will undoubtedly have numerous applications in robotics and medicine, such as helping people with disabilities to restore some of their lost functions.
For example, it could be used to control techno-biological prostheses, sending control commands via Wi-Fi to activate certain movement instructions (such as going up or down stairs). According to the developer, no currently available product possesses comparable functionality or a system of electrodes as reliable and innovative as in their invention.
Anthropomorphic robotic prosthesis
The same developer also presented an innovative anthropomorphic robotic prosthesis - a first for Russia.
Anthropomorphic robotic prosthesis. Source: Darya Kezina
The prostheses are equal in quality to their German counterparts, while costing up to three times less on the market. Leg prostheses are controlled by on-board microprocessors that receive instructions both from local motion sensors and from a neural interface, allowing for a more comfortable and natural gait for the user. The weight of the prosthesis corresponds to an average human leg.
Energy efficient electric engines
One of the most groundbreaking inventions demonstrated at the fair was the prototype family of a new generation of brushless DC electric motors, which significantly outperforms models available on the international market at the moment. The motors were presented by Vladimir Milov, a senior fellow at the Physics Department at Lomonosov Moscow State University.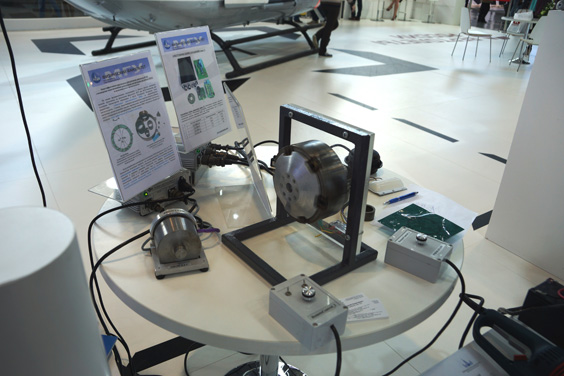 The prototype of new generation brushless DC electric motors. Source: Darya Kezina
Tests have shown the efficiency of the motors exceeds EU requirements for top-class energy efficient engines. Two to three times lighter than similar engines, the motors are also better adapted for regular production. They can be used in fuel pumps, electric drives of machinery tools and locks, servo drives, as well as conditioning and ventilation systems. The Mitsubishi Electric Corporation has already expressed interest.
An intensive care chamber for newborn babies
Rostec's Schwabe holding company showcased a unique device for newborns, combining all the features of an incubator for infants with those of a neonatal warming system.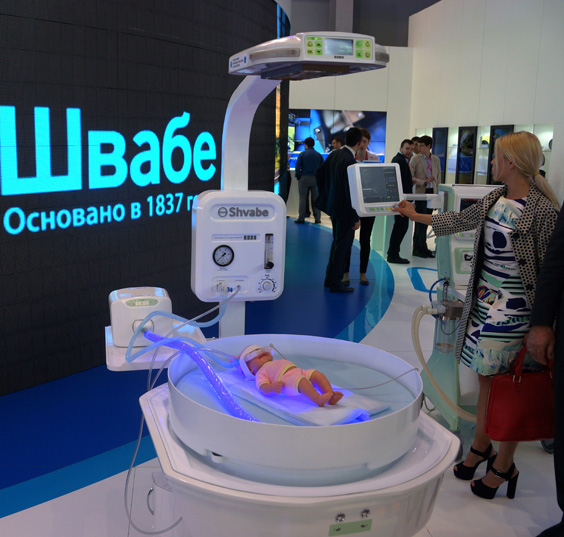 The intensive care unit for babies. Source: Darya Kezina
Designed for providing intensive care to premature newborn infants, the device imitates the conditions of the womb as closely as possible, helping babies reach adequate maturity to survive on their own. The intensive care unit is capable of treating jaundice and other conditions in newborns without medication, can function as a medical ventilator and treat other ailments.
Helicopter pilot goggles
Schwabe holding company also presented night vision goggles with an advanced optical system designed specifically for helicopter pilots.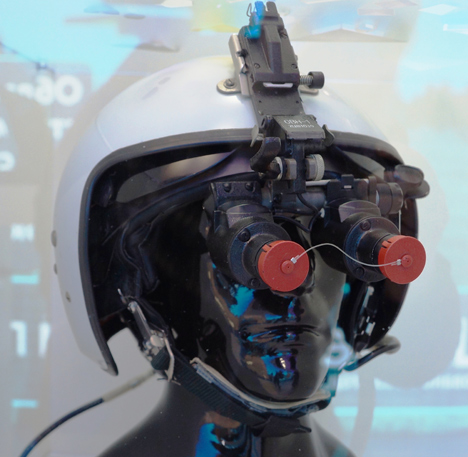 Helicopter pilot goggles. Source: Darya Kezina
The goggles allow for a 500-meter range and a 48-degree field of view and have a built-in automatic brightness control. The device is made entirely of Russian-produced materials. The developers claim that no similar imported products are currently available in Russia.
All rights reserved by Rossiyskaya Gazeta.