First Russian investment in solar sector in Tamil Nadu announced at IESS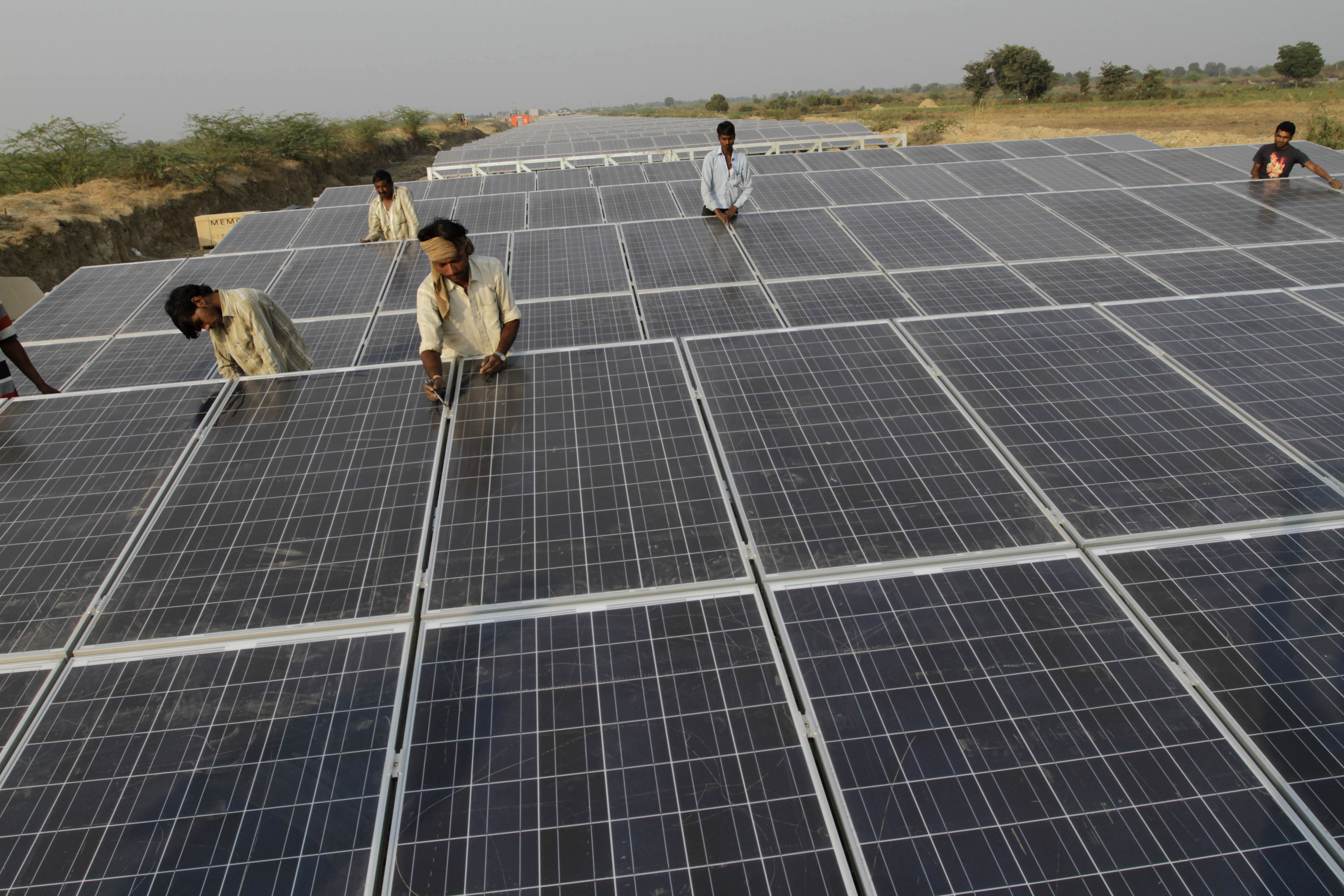 Russia is looking to make major inroads into India's solar energy sector. Source: AP
Chennai-based Al Ameen Green Energy closed an $80 million deal with Miyota Power India Pvt Ltd, a Russian joint venture, for financing a 100-megawatt solar power generation project.
Taking cooperation between Russia and India in renewable energy to a new level, Russian joint venture Miyota Power India and Chennai-based Al Ameen Green Energy on Mar. 17 signed an agreement for a 100-megawatt (MW) solar photovoltaic (PV) power plant in Virudhunagar, Tamil Nadu. The Russian partner will invest around $80 million in the project.
The agreement for financing and EPC (Engineering, Procurement, and Construction) was signed on the sidelines of IESS trade show in Chennai, marking the first ever Russian investment in Tamil Nadu's solar energy sector. The agreement was signed in the presence of Russia's Trade Minister Denis Manturov and India's Minister of State for Commerce Nirmala Sitharaman by Alok Kumar, President of Miyota Power and M.Basheer Ahamed, Chairman of Alameen Green Energy.
According to the companies, the project should be executed fully by the end of 2017, although it will be implemented in four phases. During the first three phases, the installation of 25 MW, 15 MW and 9 MW capacity will be completed respectively. The remaining 51 MW capacity will be added during the fourth stage. The connection to the grid will also happen in phases.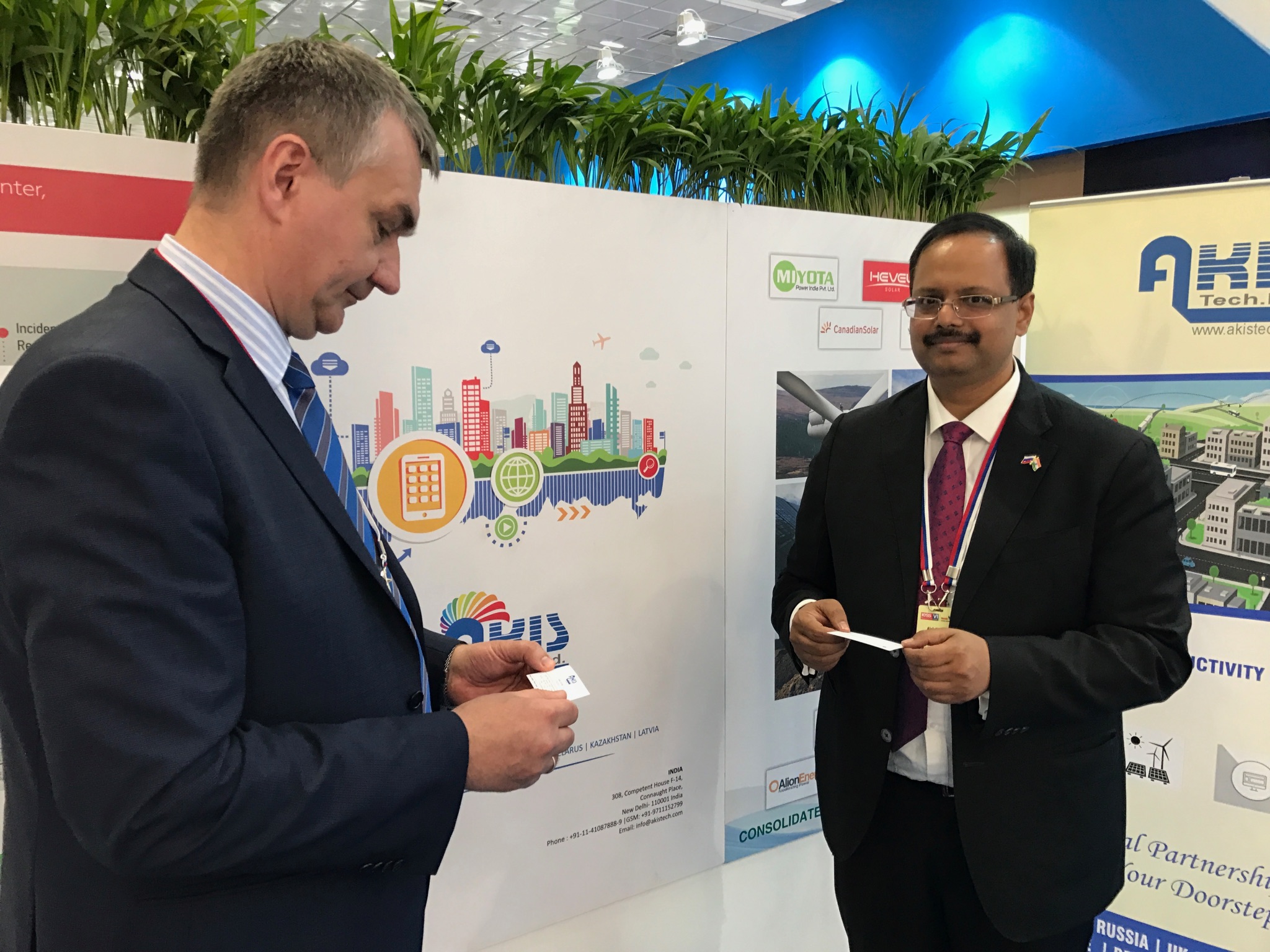 Alok Kumar, President of Myota Power and M.Basheer Ahamed Chairman of Akis Tech Ltd. Source: Ksenia Kondratieva
Tamil Nadu had been witnessing a severe power shortage for many years until it registered a power surplus of 11,649 million units last year, leaving behind other power-surplus states such as Maharashtra, Madhya Pradesh, Delhi, Gujarat and Karnataka, according to the Central Electricity Authority (CEA).
Miyota Power is a joint venture between two Russian companies, the state-controlled JSC Minneftegasstroi specializing in construction of pipelines, oil and gas processing plants and other industrial sites, and Akis Tech Ltd providing project development, financing, operation and management solution for power generation sector.
The project in Tamil Nadu is not the first for Miyota Power. Since 2015, it has been working on several project opportunities in India with a total estimated capacity of almost 500 MW. In March 2016, the company signed an memorandum of understanding with the government of Haryana for a 100 MW grid connected solar power project with investments of $90 million.
In February 2017, Miyota Power signed another investment contract with Jharkhand for the production of cells used in manufacturing of solar panels. The project will be implemented in the next six months.
According to Alok Kumar, Miyota Power's agreements with Indian states and private players could be seen as practical realization of the December 2015 agreement signed between the Russian Energy Agency (REA) and the Solar Energy Corporation of India (SECI).
Cooperation between Russia and India in the renewable energy sector at the government level has been otherwise sluggish. Despite memorandums signed by government agencies for several large-scale solar PV power plants, the pilot project still remains in the "planning stage" leaving Russia behind the U.S., Japan and Europe that have already established their presence in India's solar energy market.
Apart from investing in solar power generation in India in partnership with Minneftegasstroy, Miyota has agreements with Russia's Hevel group, a joint venture between Renova Group and OJSC Rusnano, for joint co-production of solar PV panels for India, and another agreement with Russian Solar Management Group for co-investments in solar power projects in India.
Ksenia Kondratieva is an independent journalist based in Mumbai covering business, economic reforms and development, and international relations.
If using any of Russia Beyond's content, partly or in full, always provide an active hyperlink to the original material.