Who exports Russian medicines; where are they sent?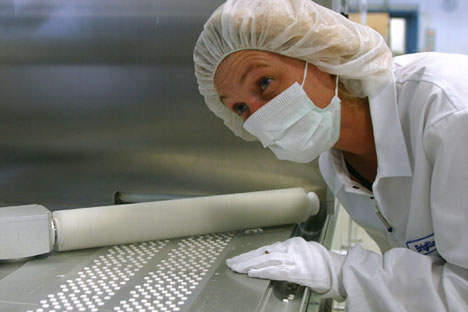 The pharmaceutical production at the Merck company in Darmstadt.
Getty Images
The American pharmaceutical company Abbott purchased Veropharm, the Russian manufacturer of generic drugs, last year. Their plan is to begin exporting medicines manufactured in Russian plants. German and French pharmaceutical companies in Russia are also looking to raise exports.
Abbott pharmaceuticals is planning to build an international business based on Veropharm, and plans to soon begin export of drugs from the company's manufacturing facilities, Michael Vormut, executive vice president and head of market-recognized pharmaceuticals at Abbott said in an interview. He did not provide any specifics, however, about when exports would begin, or which medications could be involved.
Abbott spent 16.7 billion rubles in late 2014 to buy 98% of Veropharm, one of Russia's largest generic drug manufacturers, specializing particularly in anti- cancer medications.
Oncology drugs for the West.
Abbott's international oncology business is likely to be based in Russia. The centre will be at the Veropharm factory now being built in Vladimir Oblast, said Sergey Shulyak, general director of the DSM Group, a research firm. The plant's capacity, according to him, will be sufficient for a large-scale export programme, and necessary certificates to supply products to Europe and the United States from this plant should be ready within a year or two.
For Veropharm, readying a production plant for exports is potentially a very profitable proposition, said Ivan Glushkov, deputy director of the STADA CIS Development Company.
"In the oncology segment, the 'economies of scale' rule applies perfectly; the more you produce the cheaper is the per unit cost," Glushkov said.
Oncology is a fast-growing market all across the world. Every third new development in the pharmaceutical market is an anti-tumor drug, said Glushkov.
Who sells Russian medicines?
Exports until now have accounted for a very small part, in terms of sales, of Russian pharmaceuticals. Russian factories, built by foreign manufacturers, were primarily an insurance against possible national restrictions and only then a potential for increased business, said Glushkov of STADA CIS.
According to the analytical firm RNC Pharma, around 15 billion rubles worth of medications were exported from Russia in 2014. In the first half of 2015, exports accounted for more than 8 billion rubles (an increase of 31% compared with the same period last year).
The largest exporter among manufacturers was Nizhpharm, owned by the German STADA; accounting for 11.6% of total exports last year. This manufacturer supplies about 200 products, mainly to the CIS countries, the Baltic States and Germany (data from RNC Pharma).
The French company Sanofi announced plans, in mid-July, to develop its exports. In the first quarter of 2016, the company will begin supplying insulin produced in Russia to Germany. These medications will be produced in the Sanofi-Aventis Vostok plant in the Oryol Oblast. The plant has already got the GMP (Good Manufacturing Practice) Certificate from the European Medicines Agency (EMA); a necessity for exporting to Europe.
"Before the economic crisis, for an international company, the production of medicines in Russia and in Europe cost about the same, but now, in Russia, it has become cheaper by about 10-15%," explains Nikolay Bespalov, development director of RNC Pharma.
Sanofi is not the only foreign insulin manufacturer with localized production in Russia. In early April, an insulin plant was opened by the Danish Novo Nordisk Company in the Grabtsevo Industrial Park in Kaluga Oblast. The American Eli Lilly is preparing to start localizing production as well, with the company planning to begin production this year. It is unclear if this company will also export its products.
In the next two or three years, when enterprises of foreign pharmaceutical giants will reach full capacity, it is likely that exports from Russia would rise significantly, said Bespalov.
The full text of http://rbcdaily.ru/industry/562949996452698
All rights reserved by Rossiyskaya Gazeta.