Russia encouraging new farmers with grants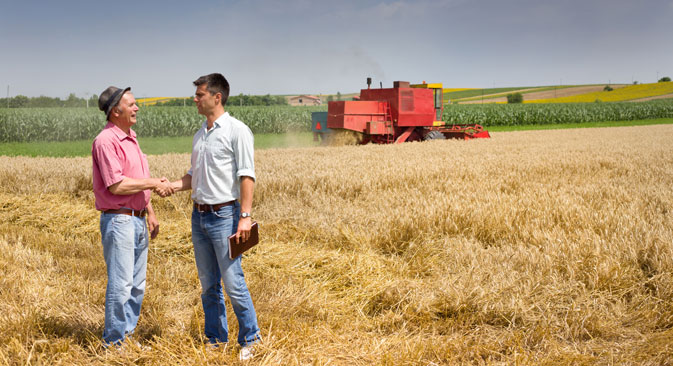 With the imposition of sanctions, and the need to substitute particularly food imports, farmers have found themselves at the epicenter of the state's attention. Budget expenditure in this sector has not been reduced even during this crisis, and farmers are increasingly becoming entrepreneurs to get state aid.
Agricultural producer Yury Orlov from Mordovia runs a dairy farm. He has recently received a grant as a start-up (Beginner) Farmer, of 1.5 million rubles, from the state.
With this money, he has equipped a dairy (cow house) and bought 15 elite cows. Yury now plans to compete for a grant as a "family farm," for which the state allocates between three and seven million rubles.
This allows farmers to significantly increase their capacity and production.
As Natalia Zvereva, director of the social regional program fund Our Future, explained, owners of private farms are now increasingly registering as individual entrepreneurs to participate in the competition for the 'Beginner Farmer' grant.
According to the Federal Tax Service, the number of farming entrepreneurs grew by 4,670 just in the first quarter 2015. The figure for 2014 totally reached 3,000.
Olga Bashmachnikova, chairperson of the Agrarian Party of Russia and deputy director of the Association of Farms, said the 'Beginner Farmer' program has existed since 2012, but interest in it has increased this year.
On average, one grant amounts to 1.5 million rubles. Sixty percent of those who apply for the grant are cattle farmers, while 40 percent are plant farmers (25 percent of whom are grain-growing farmers).
1.5 million rubles makes a difference
According to the farmers interviewed, 1.5 million rubles makes a definite difference in helping the new or start-up farmer set up a small farm.
Yelena Shcherbakova, a poultry farmer in the Altai region, said she registered as an individual entrepreneur on July 15.
"My main goal is to apply for the Ministry of Agriculture's 'Beginner Farmer' grant," Shcherbakova said. "For us it is a chance to get funds from the government for what we cannot buy on our own; expensive incubators, including industrial ones. One such incubator costs 540,000 rubles."
It is now advantageous to develop one's business and increase supplies in the current situation; demand from Russian consumers has increased, largely due to the Russian embargo on foreign produce.
"The western food embargo made room for Russian entrepreneurs on the shelves of major supermarkets," says Mikhail Nikolayev, managing partner of the company Nikolayev and Sons and the winery Lefkadia. "We saw for ourselves that demand for Russian products since the introduction of sanctions in the summer of last year has grown dramatically."
The number of Russians buying Russian cheeses increased during the year to 40 percent, Nikolayev said. At the end of 2014, his facilities had to increase their capacity, since domestic productivity at that time did not cover demand of distributors.
Funding will keep growing
According to analysts, Russia has not utilised around 40 million hectares of arable land, suitable for agriculture. In 2014, the Russian market share of individual homesteads and farms amounted to 51.4 percent (according to the Association of Farms).
Farmers admit that this figure can be increased, but this requires a rise in funding and the preservation of the food embargo.
Bashmachnikova explained that the volume of state subsidies is not yet sufficient to support all those who want to enter the farming business. This is despite the fact that this year's funding for the grants programme has been raised from 1.9 billion to 3.2 billion rubles.
Over the next five years, the Ministry of Agriculture plans to allocate about 2 trillion rubles to support the agricultural industry.
All rights reserved by Rossiyskaya Gazeta.