Russia's Rosneft sells 15% in Vankorneft to India's ONGC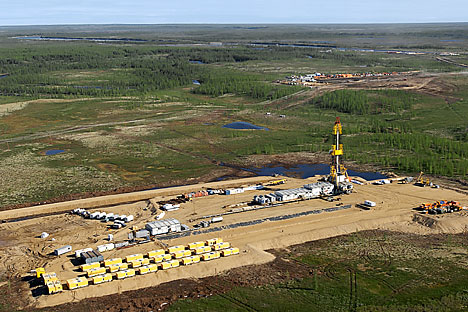 The Vankor deposit, located in the north of the Krasnoyarsk Territory in central Siberia, was launched back in 1988. Source: Vladimir Vyatkin / RIA Novosti
India's ONGC paid an amount close to $ 1.25 billion.
Rosneft sold a 15% stake in Vankorneft to India's Oil and Natural Gas Corporation Limited (ONGC), TASS correspondent reports from the signing ceremony.
Under the terms of the agreement, after the deal is closed ONGC will be presented with two seats on the Board of Directors of Vankorneft, while Rosneft will retain full control of infrastructure of the Vankor cluster.
The agreements on considering the deal were reached on July 8, 2015, in Ufa during the meeting of the Russian President Vladimir Putin and Indian Prime Minister.
India's ONGC paid an amount close to $ 1.25 billion, Rosneft CEO Igor Sechin told journalists.
As TASS reported earlier, Indian ONGC was in talks with Rosneft on buying a stake in Vankorneft (Rosneft subsidiary) for $900 mln.
ONGC was planning to buy a stake in Vankorneft through its subsidiary ONGC Videsh Ltd. According to the company, it would allow producing around 3.5 mln tonnes of oil per year.
Rosneft continues negotiations with CNPS on selling stake in Vankorneft
The CEO of the company also said Rosneft continues negotiations with China's National Nuclear Corporation (CNPS) on selling a stake in Vankorneft.
"We continue negotiations with CNPS on selling a stake in Vankorneft, it's just that right now we've defined a certain market price," he said.
As TASS previously reported, on November 9, 2014, Rosneft and China National Oil & Gas Exploration and Development Corporation (part of CNPC) signed a framework agreement on purchasing a 10% equity stake in Vankorneft by the Chinese company.
Vankorneft was established in 2004 to develop the Vankor oil and gas field, a major Russian deposit discovered in the last 25 years.
The Vankor deposit, located 142 km from the town of Igarka in the north of East Siberia, had recoverable reserves of 500 mln tonnes of oil and condensate and 182 bln cubic meters of natural gas as of January 1, 2014.
Today Vankor cluster consists of 23 license areas located in the Krasnoyarsk region and partly in the Yamalo-Nenets Autonomous District.
First published by TASS.
All rights reserved by Rossiyskaya Gazeta.