Offshore oil needs new technology, higher prices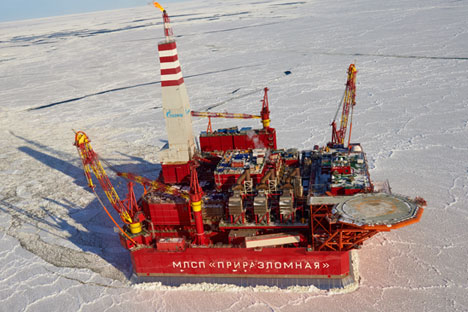 Russia's Prirazlomnaya oil platform. Source: RIA Novosti / Alexey Danichev
Russia is seeking to source equipment for offshore oil production from new countries because sanctions by the European Union and the United States have impacted its efforts. However, analysts said, development of Arctic fields is being hindered by low oil prices.
Alexander Khloponin, Russia's Deputy Prime Minister, said Moscow has been slow to find alternative supplies of equipment for offshore oil production and needs cooperation with other countries that have experience in this area, Interfax news agency reported.
Because of sanctions imposed to punish Moscow for its role in the Ukraine conflict, Russia's traditional partners, the U.S. and European companies, are barred from providing services to explore and produce oil on the Russian shelf at depths of over 150 meters.
However, Khloponin said, there are many countries with experience in offshore drilling which have not imposed sanctions on Russia. According to the Energy Ministry's forecasts, Russia will produce a total of 50 million tons of oil, or 9.5 percent of total production, on the shelf by 2035.
"The development of offshore fields has been stalled not only by sanctions, but also by a sharp drop in oil prices. With the current state of the energy market, expensive development in the Arctic is simply unprofitable," said Ilya Buturlin, managing director of Trust management company Hedge.pro.
Main causes
The problem of carrying out "import substitution" of equipment for offshore drilling emerged in 2014, when the U.S. and the EU banned imports of technology for use in Russian Arctic projects.
By that time, Russia's largest oil company Rosneft and the American ExxonMobil had discovered the Pobeda oil field in the Kara Sea and drilled a well, but after sanctions set in, foreign partners had to suspend participation in the project.
"Offshore drilling equipment has never been produced or even designed in Russia," said Georgy Vashchenko, Freedom Finance Investment Company's operations head in the Russian stock market. "For its production and use to be economically viable compared to imports, it must be produced in large quantities, including for deliveries abroad."
According to Vashchenko, only three customers can provide demand for the equipment in Russia at the moment; Rosneft, the gas monopoly Gazprom, and the private company Lukoil, which produces oil on the Caspian Sea shelf.
Pyotr Dashkevich, an analyst with investment company UFS, said the impact of sanctions on development of offshore fields is not as significant as the effect of the fall in oil prices.
"Many of the projects announced were attractive due to high energy prices," he said.
According to Dashkevich, contracts with Western partners were signed before sanctions were imposed and, accordingly, do not fall under the restrictions, but almost all these projects have been delayed or abandoned.
Search for partners
The Ministry of Industry drafted a plan at the beginning of 2015, for import substitution in the oil and gas industry, but according to the document, the planned reduction in the share of imported equipment for offshore projects to 60-70 percent will happen only by 2020.
"Before the introduction of sanctions, Russian companies had cooperated with the American, Norwegian and Italian suppliers, but now China and South Korea are also being named among the potential partners," said Ilya Buturlin.
Moreover, according to him, companies such as General Electric are now ready for the localization of individual equipment for Russian offshore drilling vessels.
However, according to Dashkevich, it is companies from Europe and the U.S. that are most interesting for borrowing the technologies, as they have the experience of working on the shelf and specifically in the Arctic, while Asian companies are likely to have had only "local experience," though they may "be interested in supplying equipment and providing subsequent maintenance."
All rights reserved by Rossiyskaya Gazeta.