Sanctions curb investment in innovation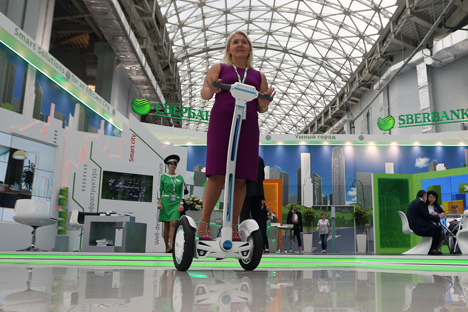 The 2015 International Investment Forum was held in Sochi in October. Source: TASS
Attendees at the recent International Investment Forum in Sochi said U.S. and EU sanctions on Russia are stalling international investment in innovative start-ups. Foreign companies are unaware of what they can do under the new conditions. Russian analysts feel several new innovative clusters could come up in parts of Russia including Sochi.
Sanctions imposed on Russia by the United States and the European Union are holding back international investment in innovative start-ups. Speaking at the 2015 International Investment Forum in Sochi on Russia's Black Sea coast, Pekka Viljakainen, advisor to the Skolkovo Foundation's president on the start-up environment, said that the "sanctions are written in such an unclear way that many investors do not know whether they can buy a ticket to Russia, and are certainly are not sure whether they are allowed to invest in Russian projects."
"The biggest problem in connection with the sanctions is that potential investors in Europe and the U.S. do not know what they can and what they cannot do in Russia. Therefore, it is important to confirm that the investment in start-ups does not fall under sanctions," said the Advisor to the Skolkovo Foundation science and tech development centre, at a session organized with the Open Innovation forum.
Creating conditions for development
Oleg Fomichev, deputy minister of Economic Development, said innovation in Russia is mostly developing in specially created clusters; industrial parks, business incubators and special economic zones.
Fomichev said such clusters; of which there are now 26; could be created in other regions of the country, like the Krasnodar Region in the south, where Sochi is located. The subtropical climate and former winter Olympic Games venue could become the centre of Russia's "Silicon Valley," he said.
Nikolai Nikiforov, Minister of Communications, said only 20 out of Russia's 85 regions are engaged in innovation.
"First and foremost, it is a question of attracting talented businessmen and engineers, creating the institutional conditions for business development," he said.
A programme to build industrial parks for innovative technologies was readied in 2014, and a total of 750 residents are working at these sites.
Nikiforov said it was necessary to meet three conditions to develop innovative skills; creation of a comfortable environment, availability of human capital and interest in research & development on the part of state-owned companies.
"In Russia, the share of state presence in the economy is large, and where state-owned companies invest in innovation, life will be going swimmingly," said Nikiforov.
Interaction with the global community is a key factor
According to Alexei Komissarov, head of the Industry Development Fund, innovation could become a mechanism for attracting investments in a specific region.
"In an era of global technological revolution, technologies have become a stronger currency than money," he said.
However, according to Viljakainen, attracting investment is important, but not the only factor for the development of innovation.
"If all issues were resolved by money, Saudi Arabia would be the most innovative country in the world, but to date no one uses any product from Saudi Arabia except oil," he said.
Viljakainen considers the interaction of startups with the international community as a key factor for the development of innovation.
"There are virtually no foreigners among the founders of the companies that are residents of Skolkovo – as a result, Russian developers do not know how to commercialize their product," he said.
According to him, "every startup should focus on the world market, just when it is at an early stage of development."
All rights reserved by Rossiyskaya Gazeta.