Russian search engine beats Google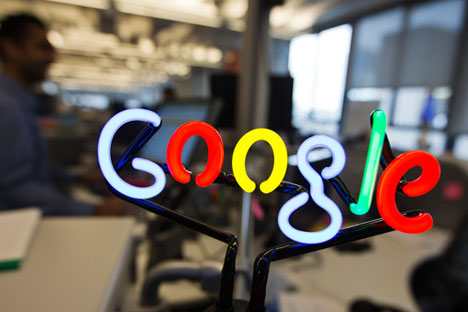 Apart from Yandex, Google in effect has no other competitors on the Russian market.
Reuters
Russia's Federal Antimonopoly Service (FAS) has found Google guilty of violating Russian Competition Law, after a complaint was filed against Google by Russia's leading search engine Yandex. Google now has until Nov. 18 to authorize manufacturers of Android devices to pre-install applications of its competitors, including Yandex.
What happened?
After getting a complaint from Yandex, Russia's largest search engine, the Russian Federal Antimonopoly Service (FAS) investigated and began proceedings against Google in February 2015. The Russian company accused the U.S. internet giant of abusing its dominant position in the Android market, and blocking other service providers.
How did Google break competition rules?
Android is Google's free mobile operating system, which, with a share of 85 percent, dominates the mobile OS market. In December last year, Google introduced a drastic change in how it works with manufacturers of Android devices, banning them from pre-installing competitor applications, including search engines.
Google threatened to prevent the offending devices from being able to use some of its most popular services, like Google Maps, Youtube, Gmail, and the Google Play store; the main source of apps for any Android user; if the ban was not upheld.
As a result, several smart phone manufacturers, like Fly, Explay and Prestigio, which used to work with Yandex, had to give up their partnership with the Russian company.
Why does it matter to Yandex so much?
Russia is the key market for Yandex, but its share of the market for search engines in Russia has been steadily falling, while that of Google is rising. If the current trend continues, the U.S. giant could become Russia's most popular search engine in a couple of years.
In September 2015, Yandex accounted for 57.4 percent of the Russian search market, with Google's share at 34.9 percent (Liveinternet data). In September 2013, their shares were 62.2 and 26 percent respectively.
Google's rising spread makes it essential for Yandex to retain the opportunity to pre-install its apps and search engine on android mobile devices. Particularly since Fly, Prestigio, and Explay hold a considerable share of the Russian market.
Who will now decide which search engine is to be installed on mobile devices?
Yandex's victory means that all companies willing to pre-install their applications will have to agree directly with the manufacturers of smart phones and tablets, by offering them better terms.
In addition, Google must inform Android users of the functionality to deactivate pre-installed applications, replace Google Chrome as the default search engine and offer them competitor search widgets and services.
How much money could Google lose on the Russian market?
Apart from Yandex, Google in effect has no other competitors on the Russian market. According to SPARK-Interfax data, in 2014 Google's main legal entity in Russia made 18 billion rubles, or about $300 million (at the current exchange rate), while Google's revenue globally amounted to $66 billion. In other words, Russia accounts for just 0.5 percent of the company's profits. It is unlikely that the loss of 0.5 percent would be critical for the company.
Having said that, the FAS ruling sets an interesting precedent for the international community and in future could become a starting point for lawsuits by other companies. For example, the EU has for a long time been collecting evidence of Google violations and the story with Yandex sets a precedent. If Google's guilt is proven, the European Commission has the right to fine the internet giant to the tune of 10 percent of its sales, which would amount to a record-breaking $6 billion.
Anton Krokhmalyuk is an internet expert and marketing director at e-Legion.
All rights reserved by Rossiyskaya Gazeta.