Media houses leave Russia over new ownership law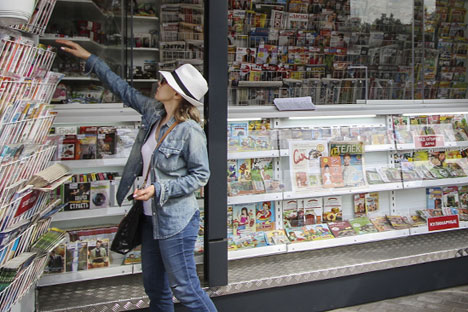 People by the new Press kiosks on the square in front of the Shabolovskaya metro station, Moscow.
RIA Novosti/Konstantin Rodikov
A new law which will limit the foreign ownership of media in Russia to 20 per cent, is scheduled to come into effect from January 1, 2016, force on January 1, 2016, is forcing many international companies to leave Russia fearing loss of revenue.
With just a couple of months to go before controversial amendments to a law on mass media ownership comes into effect, several foreign publishers are thinking of completely selling their businesses in Russia, as it is no longer profitable to operate. The amendment to the media ownership law will limit foreign participation in Russian mass media to 20 percent.
The law will come into effect from January 1, 2016, and media companies must submit reports on their shareholders by February. 15, 2016.
Two large foreign media holdings, the German Axel Springer and the Swiss Edipress, are selling their Russian assets, they announced in September. Ralph Buchi, president of Axel Springer International, said that demands of the new mass media law are "not acceptable" to the company.
Assets are also being sold in TV and the electronic media. STS Media, of which 37.9 percent belongs to the Swedish Modern Times Group, announced it was selling 75 percent of its assets to UTH Russia for $200 million.
Why is the media business becoming unprofitable for foreigners?
According to Dmitry Lukashov, IFC Markets analyst, foreigners are ready to leave the Russian media business not only because of the government ownership ban, but also for financial reasons.
Foreign mass media is interested in profits in foreign currencies, while their revenues in Russia are generated in rubles. In 2014 the ruble fell by 72.2 percent to the dollar and 51.73 percent to the euro, directly impacting their revenues adversely.
In the advertising sector, foreign mass media is accustomed to working with western clients and producers of consumer goods. Due to the economic crisis in Russia, sales of foreign advertisement have fallen, reducing their advertising budget.
According to Alexander Vengranovich, an analyst from Otkrytie Kapital, the volume of advertising in print publications in Russia shrank by 33 percent in the first six months of 2015. In 2014, there was 11 percent growth. In television, volumes fell by 21 percent in the first half of 2015 (in 2014 there had been two percent growth).
"Foreign owners of Russian mass media are leaving the Russian market due to the unprofitability of participating with a 20-percent share, regardless of the publication," said Sergei Varlamov, partner at Delovoi Farvater.
Following the adoption of the law on mass media ownership, the quoted prices of media companies in Russia fell by an average of 60 percent.
Who's left?
Among the companies which will continue in the Russian market are TV channels belonging to the Disney and Discovery group (Discovery, Animal Planet and Eurosport), which will be managed by newly formed Russian companies. Fox TV channels have changed their owner; the official distributor for Fox TV in Russia will now be a Russian company.
Vengranovich said restructuring assets and transferring 80 percent ownership to a Russian company (with 20 percent remaining for the foreign media company) does not necessarily mean that revenues will be distributed accordingly.
"Shareholder's agreements can be made that separately determine the distribution of revenues," he said.
All rights reserved by Rossiyskaya Gazeta.