Start-ups bring change, but business lags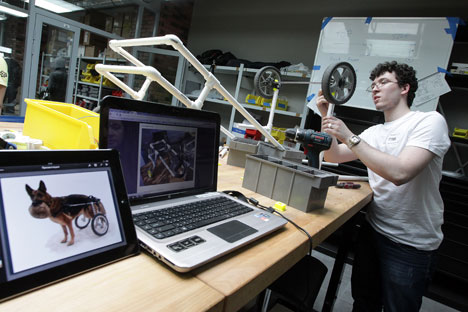 Hi-tech Russian start-ups are growing rapidly in number bringing a revolution in the way things are done, but implementation of the products and services they invent requires an equal revolution in the way big business functions.
Russia is clearly pursuing its innovation dream. Over the past eight years, 12 new science parks housing 775 start-ups have been established in the country. The range of research is ambitious, covering IT and aerospace, as well as biotechnology and the food industry.
The country will host the 33rd World Conference on Science Parks and Areas of Innovation next year, organized by the International Association of Science Parks (IASP). Jean François Balducchi, IASP President said, among the reasons Russia was selected to host the event was the country's rapid growth of new science parks. These are particularly evident outside the capital.
Betting on regional startups
2016 looks set to become the year of start-ups for Russia. The Open Innovations Forum, scheduled for the end of October, is a government sponsored event that usually sets the development trends for the subsequent year, and this time it will mostly revolve around start-ups. This is being widely viewed as a very positive development for the country.
"Throughout the world, SMEs drive economic development and job creation,'' said Edward Crawley, president of the Skolkovo Institute of Science and Technology (Skoltech). "It is essential that a strong SME sector develop in Russia. In order to strengthen this development, we need to educate and enable entrepreneurs, provide better contacts between industry and science, and develop sources of venture capital that have a longer horizon for return".
Russia's innovation geography appears to be expanding. In 2014, new science parks were opened in Tolyatti (South Russia) and the Sverdlovsk region (Ural mountains). In 2015, another park was opened in the city of Nizhny Novgorod.
Dominique Fache, founder of the Sophia Antipolis science park in France, said this is the way to go because innovations should originate in regional scientific centers such as Tomsk, Kazan or Novosibirsk.
"Major projects initiated by the government are not sufficient,'' Fache said. ``You can't spur innovation by controlling it from the capital.''
Russia's primary challenge is creating an environment that fosters development of start-ups. "What Russia needs is to encourage their growth and their ambitions,'' Balducchi said. "`The problem is that Russian startups must strive to become international, to open to the rest of the world."
Accessing the global market, however, is more difficult for Russian start-ups, because of the country's sheer size. "The bigger the nation, the more difficult it is for entrepreneurs to see themselves as a part of the world," Balducchi said.
'Big companies are like slow-moving elephants'
One of the most important issues that Russia faces is not the absence of interesting inventions, but rather the implementation and commercialization of these inventions, said Mr. Fache, who spent over two decades as the head of Russian offices of various major energy companies, including Schlumberger and Enel.
"The big companies like Russian Railways or Gazprom are Russia's advantage, but on the other hand big companies are very much like slow-moving elephants,'' Mr. Fache told RIR. ``Since they are not too receptive towards innovations, they have trouble cooperating with small startups. So I decided to create an organization to deal with the technology transfer, to search for and implement the latest inventions. We already signed contracts with several Russian energy companies.''
Mr. Fache added that Russia's large businesses should reconsider their total spending on R&D. "Schlumberger was a market leader precisely because they invested about 5% of their revenues in innovation," said Mr. Fache.
In contrast, most of the biggest Russian companies fail to invest enough in research, which makes them more vulnerable to Western sanctions. Some of Russia's oil rigs are 90% made of imported components, Mr. Fache added. Russia will be able to replace the foreign technology, but it will take time, he concluded.
Russia truly needs to reform its economy, but not for short-term import substitution reasons. Rather, it should strive to become a full-fledged force on the global innovation market, Edward Crawley believes.
"Russia has the intellectual and capital assets to make this transformation in the next decade," Mr. Crawley said. "It requires a good relationship between business and science, a better understanding of domestic and international markets, and adequate capital. All of this can be accomplished."
All rights reserved by Rossiyskaya Gazeta.