Indian Oil pitches for Vankor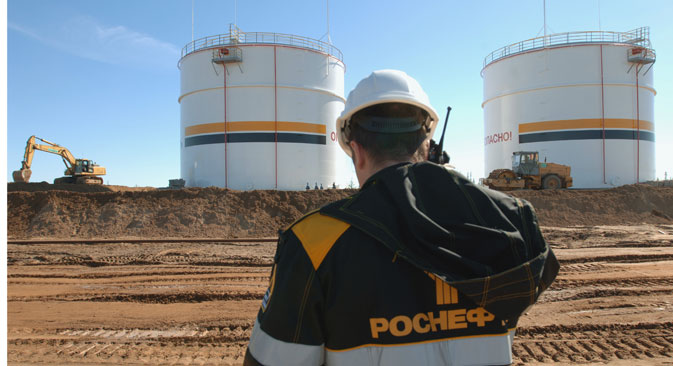 Vankor is located in Krasnoyarsk Krai. Source: Vladimir Vyatkin / RIA Novosti
The Indian oil major, Indian Oil Corp (IOC) is keen to acquire a 5 to 10 per cent share in Vankorneft, an Indian economic daily reported.
The Indian daily newspaper 'Economic Times,' quoting reliable sources, reported that Indian Oil Corporation (IOC), the largest Indian oil company, is interested in acquiring 5 to10 percent of shares of Vankorneft, a major oilfield development production project of Russia's oil major, Rosneft.
"Although the deal made by ONGC (Oil and Natural Gas Corporation Ltd) with Rosneft concerning acquisition of 15 percent of shares of the Vankor field development project has not yet been finalized, three other oil companies in India; IOC, Oil India Ltd and Bharat Petroleum Corp. Ltd; have expressed interest in Vankorneft and wish to acquire shares as well," the sources told the Economic Times.
"The IOC has made the most headway, having sent a request to the management of Rosneft regarding the acquisition of 5 to 10 percent of the shares on comparable (with ONGC - the Kommersant) terms," the sources told ET. Rosneft failed to answer questions asked by the Kommersant newspaper.
In September 2015, ONGC arranged to buy 15 percent of Vankor shares from Rosneft for $1.27 billion. The deal is expected to be finalized after approval by the regulatory authorities.
According to ONGC, this could happen by mid-2016. Rosneft will retain 100 percent control over the infrastructure of the cluster of Vankor fields, including the Vankor-Purpe pipeline. The Economic Times' sources said that "initially ONGC negotiated the acquisition of 25 percent of Vankorneft shares. However, the Russian company was only ready to part with 10 percent, and the acquisition of the additional 5 percent required significant efforts by the Indian buyer."
Rosneft has also signed a framework agreement about the sale of 10 percent in Vankor with the China National Petroleum Company.
Vankor is located in Krasnoyarsk Krai. The initial recoverable reserves at the beginning of 2015 were 476 million tonnes of oil and condensate and 173 billion cubic metres of gas. The license for the field and the Vankor-North lease belongs to Vankorneft OJSC, a Rosneft subsidiary. Daily production is 60,000 tonnes. In 2014, 22 million tonnes were produced (4.2 percent of Russia's total production). Based on the deals of sale of Vankor shares, the cost of the project is estimated at $8.5 billion. IOC and its subsidiaries make up 47 percent of the Indian oil product market and control 40 percent of the oil refineries and 67 percent of the pipelines in the country. The IOC owns 10 out of 20 Indian oil refineries with a total capacity of 60.2 million tonnes of oil per year.
FIrst published in Russian by Kommersant.
All rights reserved by Rossiyskaya Gazeta.