Russia and Iran to raise trade ties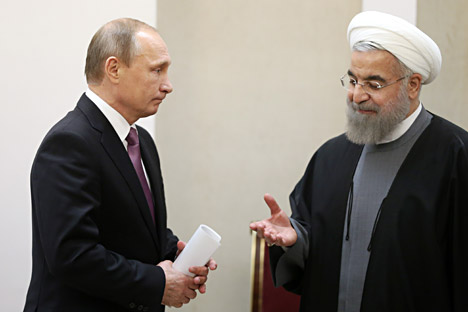 Iran's President Hassan Rouhani, right, makes his way to shake hands with Russian President Vladimir Putin after signing documents during the Gas Exporting Countries Forum (GECF) in Tehran.
AP
Russia will increase its trade turnover with Iran soon, Russian President Vladimir Putin said during a brief visit to Tehran. According to analysts, Russian specialists can help Iran develop the country's gas fields, while Iranian companies will be able to share the Turkish Stream Gas Pipeline with Russia, and circumvent the requirements of the European Union.
Russia intends to strengthen its trade ties with Iran, Russian President Vladimir Putin said during the Gas Exporting Countries Forum held in Tehran on Monday November 23, 2015. Russia plans to raise trade turnover with Iran, including through greater use of national currencies in mutual settlements. "We intend to boost the momentum of our commercial relations," Putin said after he concluded bilateral talks with the Iranian leadership.
President Putin noted that the first unit of Bushehr Nuclear Power Plant has already achieved full capacity, and, soon, intend to start construction of the next two units. Russian Railways OJSC will work on the construction of the Garmsar - InceBurun section of the railway track; a total length of 495 km.
Russian analysts said the main area of cooperation between Russia and Iran could be in the natural gas sector. President Putin's address at the final press conference specifically focused on this issue.
The Gas Exporting Countries Forum is sometimes referred to as the "Gas OPEC", because it brings together the leaders of natural gas exporting countries. Members of this association control 45% of the world's natural gas market. Its members include such diverse countries as Russia, Algeria, Bolivia, Venezuela, Qatar, among others.
Russian Plans
According to the Russian President, demand for gas in the world will increase by 32%, to 4.9 trillion cubic metres per year by 2040. This growth in consumption opens up great opportunities for increasing the production and exports of hydrocarbons, including liquefied natural gas (LNG), he said. According to Putin, Russia plans to triple its sales of LNG to 60 million tons. The president explained that gas consumers would have to share the investment risks with producers. This is the only way to justify huge investments in infrastructure; like natural gas pipelines, plants for the liquefaction of natural gas, and tanker fleets.
According to presidential aide Yuri Ushakov, Russia plans to increase its production from 639 billion cubic meters in 2014, to 885 billion cubic meters by 2035, by raising the productivity of existing deposits and developing new deposits in East Siberia and the Far East. Iranian President Hassan Rouhani said, after the removal of sanctions against his country, Iran plans to export gas to Europe and Asia.
Cooperation with Iran
According to Alexander Pasechnik, head of the analytical department at the National Energy Security Foundation, the interests of Russia and Iran in the gas market are not contradictory to one another. Iran's strategic role will increase as the country exits from under the sanctions, he said. According to Pasechnik, for this to happen, Iran will need to get large-scale investments.
Russia and Iran could supply gas to Europe via Turkey through the Turkish Stream Pipeline, which Russia is planning to build across the Black Sea to Europe, said Sergey Pikin, Director of the Energy Development Foundation. The country could thus circumvent the requirements of the European Union, which say that the same party cannot simultaneously be a gas supplier and owner of the infrastructure. Russian companies could also be part of the development of the Iranian South Pars Gas Field, he said.
All rights reserved by Rossiyskaya Gazeta.