ALROSA's ties with India sparkle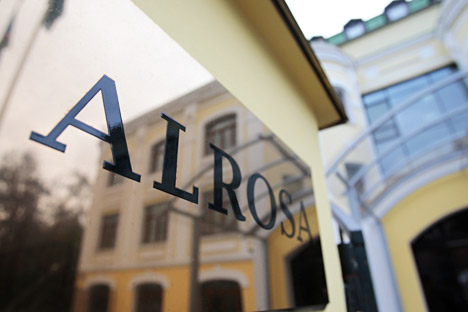 ALROSA is the world's leading diamond mining company.
Reuters
The diamond mining company ALROSA's ties with India are sparkling, and prospects for sales rising.
Companies with Indian capital purchased rough diamonds worth a total of $1.5 billion from ALROSA in 2015. Of these, $575 million worth of rough diamonds were directly sold to India, according to the Russian diamond miner's report after the company's President Andrey Zharkov's visit to Mumbai.
A delegation from ALROSA, headed by Zharkov, recently paid a working visit to Mumbai and Surat (India).
The share of ALROSA's direct sales to India in the company's overall sale figures increased from 10% in 2010 up to around 17% after last year's figures.
The delegation visited the Special Notified Zone (SNZ) that was opened at the Bharat (India) Diamond Bourse last year. The decision to set up a special platform to facilitate trade and provide producers direct access to the Indian market was made in 2014, after the annual bilateral summit between Russian President Vladimir Putin and Indian Prime Minister Narendra Modi.
In December 2015, ALROSA held a pilot tender at the SNZ to test the duty-free import-export system and noted a high level of sales organization.
Zharkov attended the inauguration ceremony of the International Jewellery Show Signature IIJS in Mumbai during the visit. In his address, he spoke of the successful efforts of officials and representatives of the industry community in India to develop the diamond trade in the country.
The Company's management held working meetings with the management of Bharat Diamond Bourse and Gems & Jewellery Export Promotion Council of India (GJEPC). They discussed the global diamond market situation and potential prospects for further cooperation.
In Surat, the ALROSA delegation held a number of meetings with the company's long-term clients. ALROSA representatives paid a familiarization visit to cutting and jewellery enterprises and discussed work under long-term contracts with the clients.
India is the world's largest diamond cutting and polishing centre and one of ALROSA's key trade partners.
ALROSA is the world's leading diamond mining company, accounting for more than 25% of global diamond production in terms of carats (18% in 2002). ALROSA accounts for 95% of Russia's overall diamond output.
All rights reserved by Rossiyskaya Gazeta.