Rosneft, Indian companies sign deal on Vankorneft stakes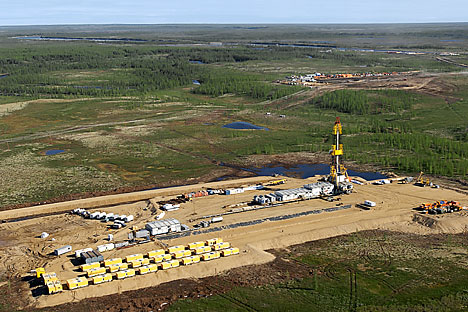 The Vankor deposit, located in the north of the Krasnoyarsk Territory in central Siberia, was launched back in 1988. Source: Vladimir Vyatkin / RIA Novosti
Rosneft, Russia's state-owned oil company, and a consortium of Indian oil companies signed an agreement for a 23.9% stake in Vankorneft, a company press release said on Friday.
Russia's state-owned oil company Rosneft and a consortium of Indian companies Oil India, Indian Oil and Bharat PetroResources have signed a sale-purchase agreement on a 23.9% stake in Vankorneft and the shareholders' agreement, the company said in a press release on Friday.
According to the press release, the document was signed in the presence of the Minister of Energy of Russia Alexander Novak and the Minister of petroleum and natural gas of India Dharmendra Pradhan by Rosneft Chief Executive Officer Igor Sechin, Oil India Limited Director Biswajit Roy, Indian Oil Corporation Chairman B Ashok, and Bharat PetroResources Managing Director D Rajkumar.
The closing of the transaction will be performed upon obtaining the necessary regulatory and additional approvals. After the closing of the transaction consortium representatives will enter the Board of Directors of Vankorneft. Rosneft will hold the majority in the project, retain the control over the operations of the named company and over 100% of the cluster's infrastructure (including the Vankor-Purpe pipeline), which was spin-off in the RN-Vankor LLC, according to the press-release.
Vankorneft, a subsidiary of Rosneft, was founded in 2004 to carry out the project of the Vankor field development, the largest field to have been discovered and brought into production in Russia in the last 25 years.
The field is located in the northern part of Eastern Siberia, in Turukhansky District of Krasnoyarsk Territory, 142 km from Igarka.
As of January 1, 2016 the 2P hydrocarbon reserves of the Vankor field according to the PRMS Vankor field classification stood at 265 mln tonnes of oil and condensate and 88 bln cubic meters of gas.
In March 2016, Rosneft signed with ONGC Videsh Limited a memorandum of understanding for cooperation in respect of the Vankor project, which stipulates the prospective increase to 26% of the share of the Indian company in Vankroneft. The document also oversees the analysis of the joint trading development's potential, including the possibility of entering into long-term crude-oil supply contracts. Also, Rosneft, Oil India, Indian Oil and Bharat Petroresources signed a heads of agreement in respect to the acquisition by a group of Indian investors of a 23.9% share in Vankroneft.
First published by TASS.
All rights reserved by Rossiyskaya Gazeta.