50 Russian companies at BRICS Trade Fair in New Delhi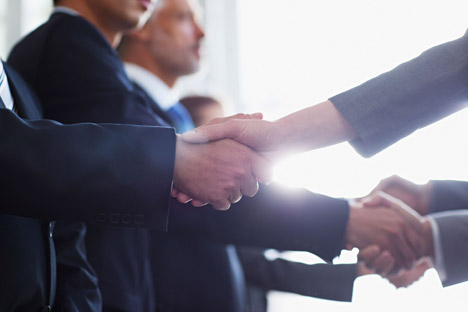 The organizers are paying special attention to small and medium-sized businesses. Source: Alamy/Legion Media.
Over 50 Russian companies, from the large Sberbank and Russian Railways to the smaller Russian Venture Company, will participate at the first ever BRICS Trade Fair in the Indian capital.
More than 50 Russian companies are participating in the first BRICS Trade Fair, Yaroslav Tarasyuk, the Russian Trade Representative in India, told TASS. The trade fair began Wednesday at the Pragati Maidan exhibition centre in the Indian capital.
"The motto of the exhibition-fair is "Cooperation for Innovation". Therefore, among the Russian participants there are quite a few companies representing innovation, including Rosnano and Russian Venture Company," said Tarasyuk.
The organizers, he said, are also paying special attention to small and medium-sized businesses.
"Therefore, while well-known large companies, such as Sberbank, Russian Railways, Russia's export hub, Uralvagonzavod, Tractor plants Concern, Renova, and others were attending the fair, most of the participants from the Russian Federation are just small and medium businesses," noted Tarasyuk.
The Russian pavilion covers an area of around 1,000 square metres. More than 200 people comprise the Russian business delegation. The exhibition began on 12 October, but the official opening function will take place on October 13 in the presence of trade ministers of the five BRICS member countries. Denis Manturov, the Russian Minister of Industry and Trade, will represent India at the opening session, due to be inaugurated by India's Vice-President Hamid Ansari.
A total of 397 companies from the five member BRICS (Brazil, Russia, India, China, South Africa) are attending the exhibition-fair, organized by the Federation of Indian Chambers of Commerce and Industry (FICCI) and the Indian government.
The programme of events also includes a BRICS business forum, the main topics for which will be development of cooperation in the fields of industry, energy and agriculture. The five member countries of the association will present their trade potential, and exchange views on ways to promote cooperation.
First published by TASS.
All rights reserved by Rossiyskaya Gazeta.