300 million euro Mercedes-Benz plant planned in Russia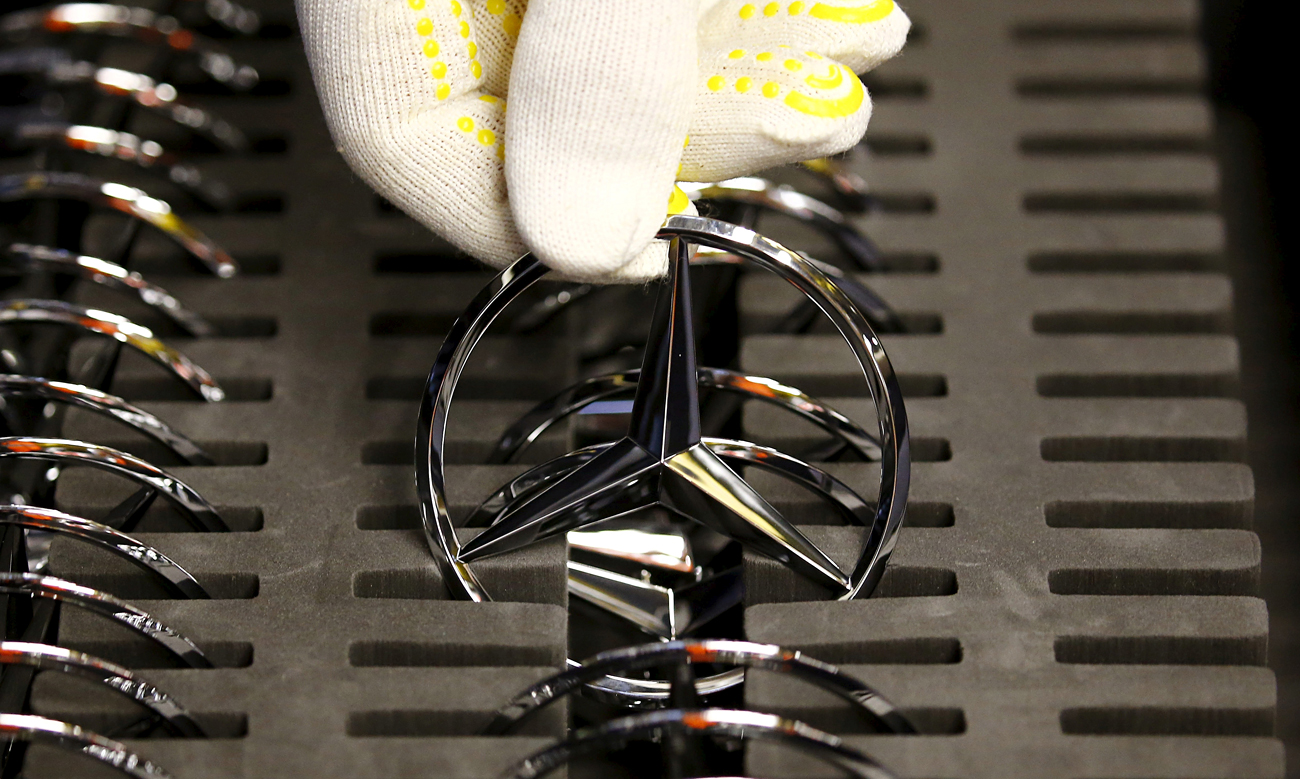 An employee of German car manufacturer Mercedes Benz takes the brand's charateristic star to assemble onto a GLA model at their production line at the factory in Rastatt, Germany, January 22, 2016.
Reuters
As the domestic Russian auto market shrinks, an increasing number of foreign automobile companies are looking to expand exports of their vehicle models, manufactured in Russia.
The German company Daimler, parent company of Mercedes-Benz, plans to sign an investment contract to build an automobile manufacturing plant in the Moscow region. The plant is expected to cost over 300 million euros, said Denis Manturov, Russia's Minister of Industry and Trade, while speaking with journalists on November 7.
The investment project will be signed by the end of the year, said Manturov. The plant will produce premium class SUVs, with an anticipated production volume of 25,000-30,000 vehicles per year.
Mercedes-Benz is considering the possibility of assembly production of cars in Russia and is in consultations and conversations with Russian officials, the press service of Mercedes-Benz Russia confirmed to RIR.
Export scenario
The Russian government decided to take initiatives to support the automobile industry in autumn 2016, for the first time in recent history, highlighting export subsidies to the amount of $50 million. These subsidies also apply to vehicles of foreign brands which are manufactured in Russia.
"If all goes according to plan, Mercedes can rely on the same subsidies that other Russian producers have," Azat Timerhanov, representative of "AUTOSTAT" analytical agency, said to RIR. However, he said, it was too early to talk about benefits, as the plant is not built yet.
There has been a growth in demand in 2016 for foreign cars assembled in Russia in CIS countries and the Middle East, commented Timerhanov. "The promotion of exports is getting special attention now," he said.
Nissan, for example, plans to deliver its model Datsun, which is assembled in Russia, to the Middle East, and Hyundai plans to export cars produced in its St. Petersburg plant to Georgia and Tunisia. A representative of Renault indicated that the French auto manufacturer plans to export its Dacia Logan and Sandero Stepway models, both assembled in Moscow, to Vietnam.
Russia's domestic auto market is not attractive to international manufacturers because of declining sales since early 2015. Vladimir Bespalov, VTB Capital analyst, said Russia has the capacity to produce 3 million cars right now, but the market demand is estimated at less than 1.5 million. "Capacity utilization comprises approximately 40%," he commented.
All rights reserved by Rossiyskaya Gazeta.