Russia to be self-sufficient in food by 2023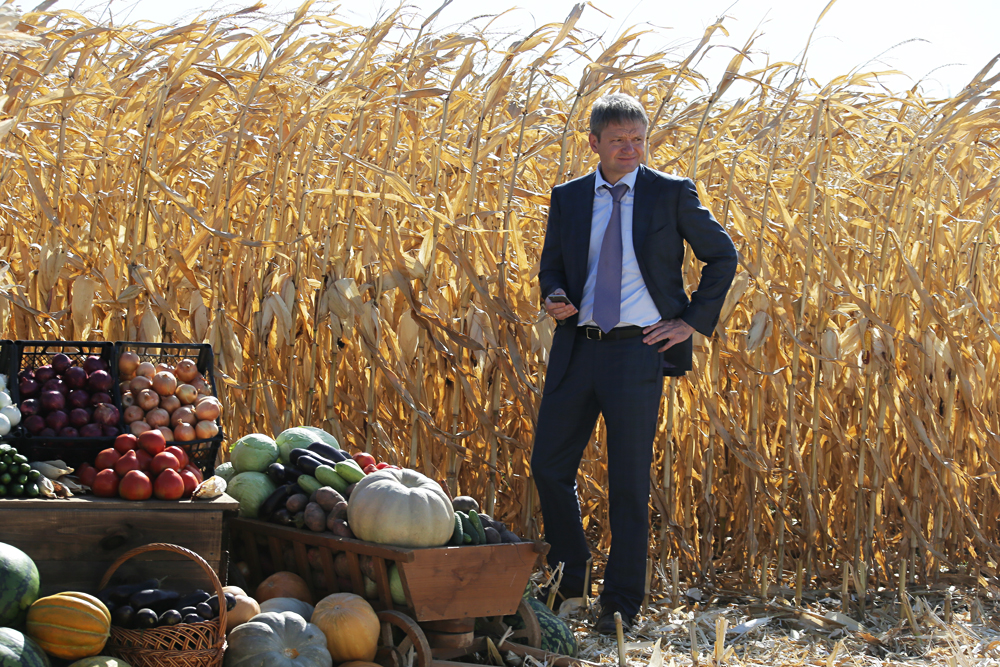 Russia's Minister of Agriculture, Alexander Tkachev in the village of Shaminka Khutor, Rostov Region
Mikhail Metzel/TASS
Agriculture Minister Alexander Tkachev informed the Duma that Russia would become fully self-sufficient in food products in seven years.
Russia will be able to acquire complete self-sufficiency in agricultural products, with the exception of exotic foods, in seven years, Alexander Tkachev, Russia's Minister of Agriculture, said during Government Hour in the State Duma.
Providing details about successes in agribusiness, and plans for exports, Tkachev said, "I feel confident that in the next seven years we will achieve full self-sufficiency, with the exception of tropical fruits, which do not grow in our country."
"Of course, we will not return all the lost farmland, but I feel confident that 10-12 million hectares will be brought back into agricultural production. The task of putting farmland back into circulation is a priority," noted the minister.
Tkachev said that the grain harvest this year reached approximately 117 million tons, which is an absolute record for modern Russia. "More was harvested only back in 1978, when 127 million tons were gathered," he said. "If we had the same amount of land under grain production – 78 million hectares (not today's 47 million hectares), then 200 million tons of grain would have been harvested," he stated.
Of the 127 tons, wheat accounted for 72 million tons, also an absolute record. "We are self-sufficient in quality wheat, and have retained world leadership in exports of this product," said Tkachev.
Russia will export around 35 million tons of grain totally in the current agricultural year.
Russian exports in the meat sector could increase to one million tons by 2020. To do this, the country needs to continue "opening up" Asian markets, as well as the markets of the Persian Gulf and other regions for Russian meat.
The dairy industry has significant potential for achieving complete import substitution. "To achieve full self-sufficiency in milk, we need to increase production to 5-7 million tons. This means that by 2020, we need build more than 800 dairy farms – that is 160 farms every year," said Tkachev. The pace of growth in milk production in agricultural enterprises and farms remains at the level of 3% now.
According to the Ministry of Agriculture, for the first 9 months of 2016, Russia exported 150,000 tons of meat, which is 60% more than during the same period last year. Pork production will grow by 10% this year – to 4.4 million tons, and poultry by 3% – to 6.3 million tons, while beef production will amount to 2.9 million tons, which is similar to last year's figure.
To improve the situation, the ministry plans to increase the size of grants given to farmers engaged in meat and dairy cattle breeding. They also plan to take measures to protect domestic producers from unfair competition from counterfeit manufacturers.
To replace imports by 2020, the country needs to plant 72,000 hectares of gardens, or 14,000 hectares annually. "This means that we need to plant around 300 new gardens every year," he said. The minister also talked about other advanced agricultural products.
He said Russia would increase its production of greenhouse vegetables by 25% this year, to 840,000 tons. During the last four years, production rose 50% in this sector. "However, we are still far from fully satisfying the needs of the population and, in the next five years, we need another 400 hectares – which is about 80 greenhouses – placed into production annually in this sector. In total, we need to build 400 greenhouses over a total area of ​​2,000 hectares," he said.
Speaking about the development of viticulture, the Minister stated that by 2020, the country must plant about 50,000 hectares of new vineyards, or at least 10,000 hectares every year.
First published in Russian by Rossiyskaya Gazeta.
All rights reserved by Rossiyskaya Gazeta.