Russian TV to broadcast in Hindi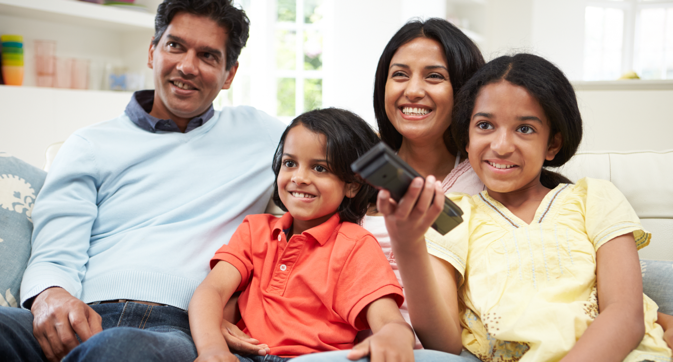 Indians watching TV top
Shutterstock/Legion Media
The official Indian media corporation Prasar Bharati and the Russian company Digital TV OJSC (DTV) have signed an agreement to co-distribute paid TV channels and to jointly produce content. By 2016, Indian viewers will be able to watch Russian movies, cartoons, documentaries, and educational programs. The initial investments of the Russian company are expected to reach several million dollars.
In 2016, Indian television audiences will be able to access two Paid-TV channels of the Russian company Digital TV OJSC, a joint venture of the state television and radio holding VGTRK (74.67%), and telecommunications company Rostelecom (25.33%). Indian children will have access to the Mult Channel, which broadcasts Russian cartoons, and the science and educational IQ HD Channel, which shows documentaries suitable for family viewing, said Dmitry Mednikov, deputy director of VGTRK and chairman of the board of directors at DTV.
Opportunities for Russian television products to enter the Indian market, and vice versa, are provided the Memorandum of Cooperation in Broadcasting signed on August 20 between Prasar Bharati and DTV. For the first time in its history, VGTRK channels will be translated into a foreign language. While the Mult Channel will broadcast in Russian in the United States, to the Russian-speaking diaspora, beginning at the end of August in India, children will be able to watch Russian cartoons in Hindi, a language they understand.
DTV will have to translate thousands of hours of content. The broadcasters have already started dubbing their productions. The first film, to be translated into English and Hindi, is the documentary 'The Far Eastern Leopard'.
DTV's plans also include translating into Hindi the "Bestseller" TV Channel's serials. Russian television serials, produced by VGTRK, would also be broadcast on the Prasar Bharati channels, including the Paid-TV channels. Among the films they plan to show is the motion picture "Catherine," on the fate of the Princess Sophie Friederike Auguste, princess von Anhalt-Zerbst, before she became Russian Empress Catherine II, and "Liquidation" on the fight against bandits in Odessa after the Second World War.
VGTRK, for its part, will broadcast and distribute Bollywood films to Russian television audiences. "Indian films find their audiences in Russia," said Mednikov. He feels Bollywood products are currently underestimated in Russia; they are presented either badly or incorrectly. Russian audiences might be interested not only in the "soap operas", but also in the documentaries, such as the history of the Taj Mahal. It is difficult to say whether the Indian cinema will attract 0.5%, or 10% of the audience, said Mednikov. At DTV, they expect that demand will balance out.
Especially considering that Latin American soap operas, particularly Brazilian and Mexican, are also coming soon to the Russian market, under similar arrangements with DTV.
According to the Telecom Daily, Paid-TV channels are used by 65% of 55 million households in Russia. Paid-TV penetration in India exceeds 80% of the 167 million households, according to experts at KPMG, and, by 2019, this share will climb to 90%.
Mednikov estimates that initial investments in the Indian project will be several million dollars. Joint investments by both parties, for broadcasting and content development, will reach tens of millions of dollars. As for when this project would start being profitable, VGTRK predicted by the end of the second year after the broadcasting begins, Mednikov said.
Background
Digital TV OJSC was created in 2014 and has positioned itself as the fastest growing Russian company in the field of Paid-TV. The share of viewers watching the company's channels is growing by 1.5 to 2% per month. DTV currently has 21 cable channels in all thematic genres, and 80% of the broadcast content is made up of Russian films and programs.
Prasar Bharati is the state broadcasting corporation of India, which includes the broadcasting corporation and the satellite operator Doordarshan. It currently runs 64 television and 24 radio channels, with a subscriber base of over 40 million households.
All rights reserved by Rossiyskaya Gazeta.