Siberian teachers for Russian in India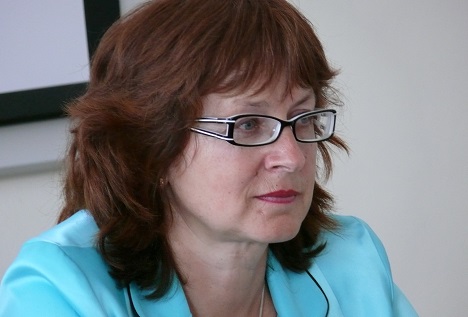 Tatiana A. Demeshkina, Dean, Faculty of Philology, Tomsk State University in Siberia, talks with RIR about plans to start professors exchange programme with India.
A Russian-Indian association of tertiary institutions is being established at the Tomsk University. How is it going to operate?
The technical faculties are going to play the first fiddle in the association. Creation of joint educational programmes is one of the objectives. In the case of Tomsk, the inter-university contacts begin with our faculty and the Russian language and literature programmes. Other specialties begin to interact on this basis. Despite the fact that at the moment the emphasis is on the programmes in English, if students travel to Russia, they find it interesting to study Russian as well.
What interaction with India is carried out at the moment in your school of Philology?
Over the past two years, we have been in close contact with the Centre of Russian Studies at the Jawaharlal Nehru University. First, an agreement was signed by the deans of our faculties, and then a contract between the universities was signed in May. A little time has passed since the contract was signed, so the main results remain to be seen. At the moment, each university has a huge number of contracts. No one remembers about the documents after they have been signed; other ones are developed rapidly. The agreement with India is of the second type.
We have already had five graduate students of the Centre coming here for internship lasting from one semester to one year; two more are on their way. There are students who have been admitted to our postgraduate school and will be studying there.
In addition, we hold an annual summer school in Russian language and literature, and several Indian students have come to attend it. Our professors also publish their work in the Centre's scientific collection. Our Indian colleagues submit their articles to us for the young scientists' conferences.
How many places are available in the summer school for Indian students?
Students come from all over the world to attend the summer school. The majority of students at our faculty are students of German universities. They are annually allocated 10 scholarships, the rest come on a commercial basis.
The other group is formed with students from various countries, including India. Indian students can apply for five places. They are granted with scholarships in the summer school. The other students will come on a commercial basis.
How do you assess the level of training of Indian students (in the Russian language)?
I will be speaking about the students of the Jawaharlal Nehru University. Students who come from there have a good level of Russian.
Let us go back to the subject of the association. There are a greater number of conditional organizations and applications than actual places filled. Can you comment on this?
I agree with you partly, but in my case, I am thinking in a different direction. The form of an association may indeed have become obsolete. We should be oriented more towards network projects, where several universities join together to solve a particular problem.
Indian students, unlike German ones, do not have an opportunity to practice their Russian with native speakers. There is no Russian community here, at least not such a big one as there is in the West. We do not have any teachers or native speakers of Russian. We used to have such programs in the past. Are there any plans to revive them?
We have discussed it with our colleagues, about how we were going to implement such an exchange of teachers. We could offer special courses in Russian language and literature. In the near future we will define specific dates and topics.
You mean that you will have teachers coming from Russia to conduct lectures?
Yes, teachers for teaching semester-long courses.
What do you recommend to students who do not have an opportunity to practice their Russian with native speakers?
At the moment our university provides distance learning courses in the Russian language, which only require an Internet connection. This is a good opportunity, and these courses are deservedly popular. If you have an opportunity, it is worthwhile going on an internship. Have Russian universities started to provide scholarships for foreign students since the collapse of the USSR again?
Are there scholarships available?
There are, and their number is growing. Previously, students could only study in our university for a fee. Now, there are scholarships for postgraduate and undergraduate students. Everything changes. And I think that the Russian leadership understands that relations with India are beneficial to both countries.
All rights reserved by Rossiyskaya Gazeta.