Adding a modern dimension to a traditional relationship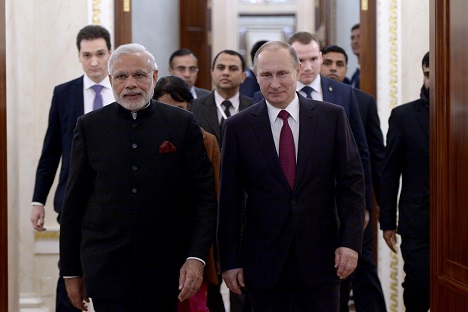 The visit of Narendra Modi to Russia will successfully add a modern dimension to the traditional friendship and business relationship between the two nations.
Kremlin.ru
Prime Minister Narendra Modi's visit to Russia has seen a spate of agreements between the two countries in critical areas of defence and nuclear energy. Larsen & Toubro, a leading Indian core engineering and infrastructure company, has collaborated in critical strategic sectors with Russia, including the Kudankulam nuclear power plant and the BrahMos missile.
India's ties with Russia have remained steadfast amid the ebb and flow of international relations. Across the decades we have looked at each other as a friend to be trusted, and have cooperated in critical areas including defence, security, trade & economy, civil nuclear energy, science & technology and culture. It was natural for Larsen & Toubro Limited (L&T), a company which is strongly identified with India's national interests, to venture into multiple engagements with Russian industry.
Larsen & Toubro is a leading technology, engineering, construction, manufacturing, IT and financial services conglomerate, with global operations. L&T addresses critical needs in core, high-impact sectors of the economy; like infrastructure, hydrocarbons, process industries, defence, power, electrical & automation and shipbuilding.
A.M. Naik. Source: Press Photo
The company's association with Russia began in the 1990s when L&T was invited to build a major housing infrastructure project and a hotel complex in Russia. After this initial foray, the relationship grew stronger as L&T stepped in to address the country's strategic needs under the aegis of the Indo-Russian strategic dialogue at the government-to-government level. Today, L&T has links with Russian organizations across various strategic sectors of defence, nuclear power and process plants. In the defence sector, L&T is actively engaged in the naval segment and in missiles while continuing to pursue opportunities in the land and aviation segments.
Defence
L&T has played a leading role in developing indigenous technology for defence, having been associated with defence research for over three decades. L&T has participated with DRDO laboratories, Indian Naval Design & Professional Directorates in the early years, and subsequently through in-house R&D facilities, to build an impressive track record across a wide canvas. This includes the field of naval platforms and equipment, land and naval weapon delivery systems and engineering systems, artillery and air defence systems, military communication, avionics and subsystems for missile and Space Launch Vehicles.
A splendid icon of Indo-Russian collaboration is India's first nuclear-powered submarine; the INS Arihant. It has nearly completed a major milestone, the sea trials, and would be ready for commissioning soon. The project has witnessed pro-active cooperation between the Indian Navy and CMDB Rubin with L&T as a partner for detailed engineering, workshop design, hull construction and system integration. Working on this programme has led to the development of special processes, jigs, fixtures and tooling for distortion-free manufacturing using quench and tempered steels of complex metallurgy. This journey also opened avenues of cooperation with the metallurgical expertise of the Central Research Institute of Structural Materials, Prometey, Russia. The technology specific to integration was developed by L&T in-house, thus building leadership in the new processes and procedures for efficient fitting out and integration of a complex naval platform.
Another successful model of Indo-Russian collaboration is the joint venture BrahMos. L&T has been a partner to the BrahMos programme for more than a decade and a half. The company's contribution includes naval launchers (Inclined and Vertical), fire control systems, integration on naval platforms and 18 subsystems of the missile airframe and launch canisters manufactured using advanced composites. The BrahMos naval weapon system integration has been accomplished on multiple refit and modernization programmes of the Indian Navy as well as new Indian Naval ships built in India and Russia.
Nuclear Power
All indigenously designed and built nuclear power plants and heavy water projects in India carry the L&T stamp of excellence in construction. Leveraging this experience, L&T significantly contributed to the installation and commissioning of Russian equipment and systems for building India's maiden 1000 MWe Light Water Reactors at Kudankulam in Tamil Nadu. This includes the nuclear island, Turbine Island, and Balance of Plant along with critical nuclear steam supply piping. L&T is also exploring the feasibility of cooperation with Russian companies for subsequent phases of Kudankulam Power plant.
Process Plant Industry
L&T is one of the world's leading suppliers of Engineered to Order (ETO), technology-intensive critical centre-piece equipment and systems to core process plant industries such as refinery, petrochemical, fertilizer and power. L&T has been partnering with Russian industry in the field of refineries and oil &gas since 2004. It has been supplying critical equipment like hydroprocessing reactors, separators and scrubbers to customers like Rosneft and TAIF. Organizations like Gazpromneft, Rosneft, Bashneft and Lukoil are prospective partners for refineries and petrochemical plants.
The Way Ahead
L&T is looking forward to scaling up the dialogue and exploring opportunities to partner with Russian companies for current and upcoming programmes of the Indian Government for the defence sector. This includes new-build and refit of surface and subsurface vessels for the Indian Navy, modernization programmes for Indian Army and much more.
With its experience and complete understanding of Russian design philosophy, L&T is uniquely poised to accomplish more towards 'Make-in-India', a flagship initiative of the Indian Prime Minister. This visit of Prime Minister Narendra Modi to Russia and his interactions with President Vladimir Putin will successfully add a modern dimension to the traditional friendship and business relationship between the two nations.
The writer is Group Executive Chairman, LARSEN & TOUBRO.
All rights reserved by Rossiyskaya Gazeta.